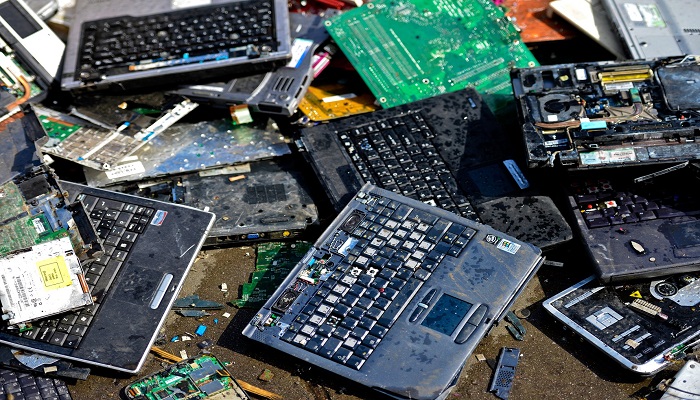 An Abu Dhabi school has managed to collect more than 500kg hazardous waste from residential and industrial areas of the city and Mussafah. The three-week cleanup campaign was held under the theme 'Throwing away e-waste isn't a solution but a problem'.
Private International English School (Bhavans) plans to continue the drive throughout the year and aims to engage other educational institutions.
The initiative to check environmental problems in the Capital got "overwhelming support" from parents, who volunteered in large numbers after office hours. The school has handed over the toxic collection to a Dubai-based recycling company called EnviroServe.
With the three-week programme, students and parents managed to create awareness among school staff and other students, general public and employees of companies in industrial areas about the harmful effects of e-waste and the need for recycling it.
Usha Kumari, head of Bhavans' eco club Natura, said the sustainable school programme was a "grand success".
"We were given six bins from Enviroserve UAE. We had doubts if we could do that, but in three weeks, we had to get four new bins from them. This has been a great joint effort from students and their parents to go out after school and office hours in the summer heat."
Principal Girija Baiju commended the efforts made by parents. "This is a small step to make our land wonderful for generations to come. This is in line with the Year of Giving initiative," Girija said. "The students not only gained a connection to their curriculum chapters but also learned skills like teamwork and leadership," she added.
EnviroServe business development officer Shera Aziz was surprised to see the 500kg e-waste collection. "This is a result of amazing teamwork. We will provide all help needed in future, too."
A parent said most people didn't know about the hazards of not disposing of e-waste. "There was e-waste in every house in the form of printers, old mobile phones, TV remotes, batteries, computer monitors and mouse. At industrial areas, we got printers, scanners, cables, calculators and other items. The problem was that no one saw those items as e-waste or being harmful to the environment. This campaign has created awareness amid everyone."