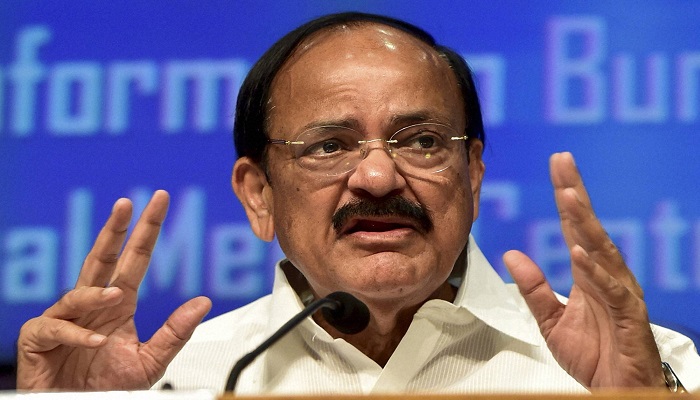 It is important to learn the 'Rashtra Bhasha' (national language) Hindi as most people in the country speak this language, Union minister M Venkaiah Naidu said Saturday. He also stressed on the promotion of 'Matrubhasha' (mother tongue) and lamented that too much importance was attached to English in the country.
The minister was speaking at an event in Sabarmati Ashram in Ahmedabad where he presented 100 volumes of collected works of Mahatma Gandhi in English to the Ashram.
"Hindi as Rashtra Bhasha (national language) is very important, we cannot do without it…Most people in our country speak Hindi, so learning Hindi is also important… but we should be fluent in our mother language like Gujarati, Marathi, Bhojpuri…," Naidu said.
"We should bring them (these volumes) in all Indian languages. I do not call them regional languages because they are mother languages and national languages. Because English came subsequently. Hindi became Rashtra Bhasha subsequently," Naidu said.
"But the original languages are Bangla, Marathi, Gujarati, Tamil ….'language and feeling go together Language is important to express our feelings. So, it is important that people study in their mother language.
"I want that in our education policy we should consider (promoting our mother language). It is our misfortune that we give too much importance to English medium.By learning English language, we have also developed an English mindset," he said.
The Information and Broadcasting minister said while he was not against English as a language, it was "being given undue importance because of its association with increasing job prospects." "Both educated and uneducated people teach their kids to speak 'mummy and papa' for mother and father, instead of maa (for mother) in the mother tongue.
"Maa is beautiful. Maa comes from the depth of the heart. But because of English being associated with the possibility of increasing job prospects, we tend to use it more," he said.