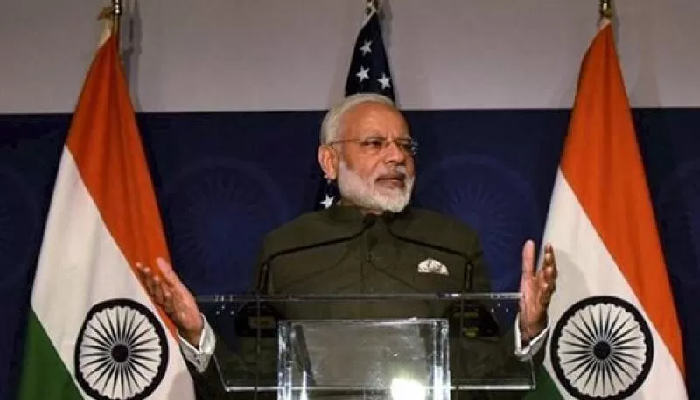 Prime Minister Narendra Modi recently said that the surgical strikes carried out across the LoC proved that India would not hesitate to take the toughest measures to defend itself, while noting that no country in the world had questioned it — an apparent swipe at Pakistan.
Addressing Indian-Americans at a reception in Virginia, Modi asserted that India has been successful in convincing the world about "the face of terrorism that is destroying peace and normal life" in the country.
"When we talked of terrorism 20 years back, many in the world said that it was a law and order problem and didn't understand it. Now terrorists have explained terrorism to them so we don't have to," he said.
PM Modi said that the surgical strikes demonstrated that India, which normally follows the principle of restraint, can also defend its sovereignty and ensure its security when needed.
"When India carried out the surgical strikes, the world realised our strength and saw that while we exercise restraint, when the need arises, India can also show its strength in dealing with terror and protecting itself," he added.
India conducted surgical strikes on terror pads across the Line of Control on September 29 last year, 11 days after the Uri attack which claimed the lives of 19 Indian soldiers.
PM Modi said that the world could have put India in the dock for carrying out the attack accoss the LoC. "However, for the first time not one nation in the world raised a single question, about India's major step to conduct the surgical strikes against terror camps on Pakistani soil," he said. 
"It is a different matter for those who had to suffer due to the surgical strikes," PM Modi said, taking another jibe at Pakistan, amid laughter from the audience.
The PM had some choice barbs for China as well, saying that India does not believe in disturbing the global order to achieve its goals.
"This is India's tradition and culture," he noted, apparently referring to China's assertiveness in the South China Sea.
"We are bound by international law because that is our character and nature. For us the concept of Vasudhaiva Kutumbakam — the world is one family — are not just words," he added.
The PM added that India, while following international laws and norms, is also capable of taking the "toughest of steps for our sovereignty, security, peace, our people and progress".
"Whenever the need arises we have done it and the world will never be able to stop us," he further added.