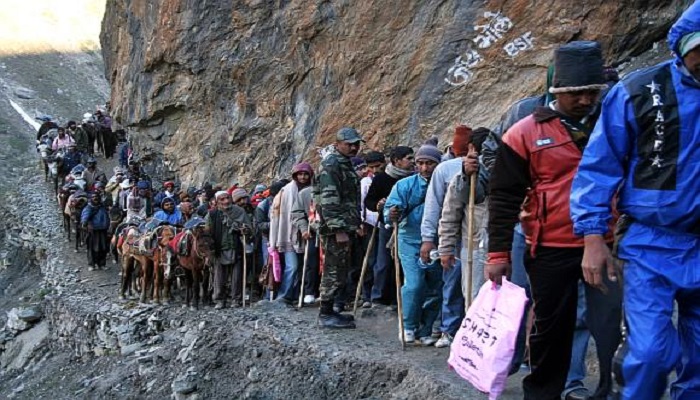 Militants are planning to target 100 policemen and as many pilgrims participating in the Amarnath Yatra which will begin from Jammu tomorrow amid the "highest- ever multi-tier security setup", according to intelligence reports.
"Intelligence input received from SSP Anantnag reveals that terrorists have been directed to eliminate 100 to 150 pilgrims and about 100 police officers and officials," IGP Kashmir Zone Muneer Khan said in a letter which was sent to the Army, the CRPF, and range DIGs in the state.
A copy of the letter sent to the 15 Corps Headquarters, Srinagar, got leaked and went viral on social media.
The 40-day-long annual pilgrimage to the holy cave shrine of Amarnath in south Kashmir Himalayas will commence tomorrow, Divisional Commissioner Mandeep Bhandari told reporters.
The government has mobilised a heavy security blanket of over 35,000 to 40,000 troops including the police, the Army, the BSF and the CRPF.
The first batch of over 4,000 pilgrims will be flagged off by the deputy chief minister for twin base-camps of Pahalgam and Baltal in Anantnag and Ganderbal districts.
Situated in a narrow gorge at the farther end of Lidder Valley, Amarnath shrine stands at 3,888 metres, 46 km from Pahalgam and 14 km from Baltal.
Asked about the intelligence issue, Special Director General of CRPF, S N Shrivastava said, "I will not like to discuss the issue in public but you are aware about the situation in Kashmir. We have taken measures as per the these intelligence inputs and have made appropriate security arrangements."
CCTV cameras, jammers, RoPs, dog squads, bullet-proof bunkers, QRTs, satellite tracking and other security gadgets are being used to maintain vigil in view of increased threat perception due to in increased terror incidents and violence in Kashmir.
In Bagwati Nagar base camp in Jammu, over 3,000 pilgrims from different parts of the country have arrived for their onward journey to Lord Shiva's shrine.
Apart from the existing CRPF in the state, the Centre has given over 250 additional companies of paramilitary forces to the state government. The BSF has deployed over 2,000 troops for the yatra. The Army has given 5 battalions and additional 54 companies of the police have also been mobilised.
Deputy Chief Minister Nirmal Singh said elaborate measures have been put in place for an incident-free yatra.
Over 2.30 lakh pilgrims have registered for the yatra.