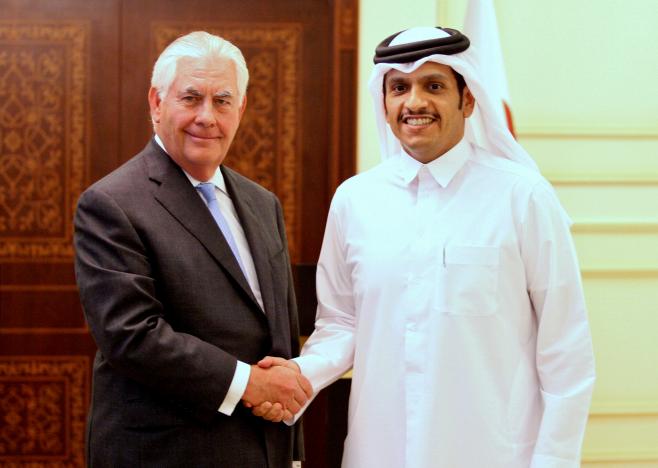 The United States and Qatar signed an agreement on Tuesday aimed at combating the financing of terrorism, as U.S. Secretary of State Rex Tillerson visited Doha to try to end a month-long rift between Western-allied Arab states.
Saudi Arabia, Bahrain, the United Arab Emirates and Egypt imposed sanctions on Qatar last month, accusing it of financing extremist groups and allying with the Gulf Arab states' arch-foe Iran, allegations Doha denies.
Tillerson said the agreement signed with his Qatari counterpart, Sheikh Mohammed bin Abdulrahman al-Thani, had been under discussion for weeks.
"The agreement which we both have signed on behalf of our governments represents weeks of intensive discussions between experts and reinvigorates the spirit of the Riyadh summit," Tillerson said at a joint news conference with Sheikh Mohammed.
U.S. President Donald Trump met representatives of Arab states during a visit to Saudi Arabia in May.
"The memorandum lays out a series of steps that each country will take in coming months and years to interrupt and disable terror financing flows and intensify counter terrorism activities globally," Tillerson added.
The four Arab states boycotting Qatar said later on Tuesday that sanctions would remain in place until it met their demands and that they would keep a close eye on the tiny Gulf monarchy's efforts to fight terrorism funding.
In a joint statement released in their state media, Egypt, Saudi Arabia, the United Arab Emirates and Bahrain said they appreciated U.S. efforts in fighting terrorism but that they would closely monitor Qatar's behaviour.