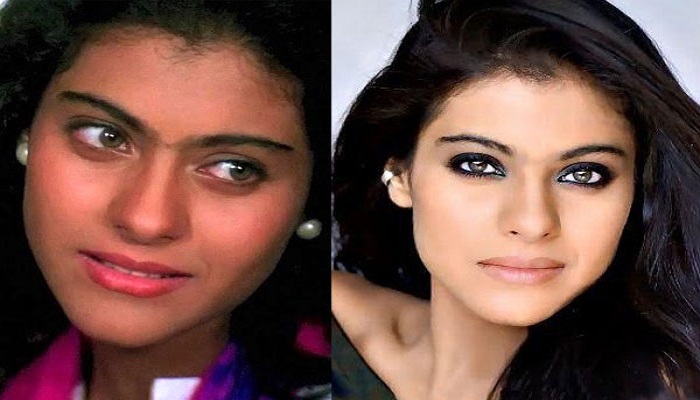 Known to be unpretentious and unpredictable, Kajol was a breath of fresh air in the stereotype-riddled film industry. She took the silver screen by a storm with her unconventional roles and an even more unconventional approach, shunning glamour and leaving the audience stunned with her outstanding performances.
Traversing a long way from her frumpy self to a fashionista in her 40's, Kajol's massive style transformation is a story that needs to be told ! Gracing the fashion pages of leading magazines, Kajol had long shed her days of unflattering and unbothered style for a more thought over and carefully chosen style demeanour that certainly did not happen overnight but gradually indeed.
Kajol attributed this mind-boggling change to a personality change that the diva felt she had to develop, given the prominence to fashion and style in recent times. Well, a conscious decision to be a new age fashionista certainly has us piqued and here's the dope on the dramatic transformation.
Owning the beauty game
From the trademark unibrow to well-kempt brows, Kajol has indeed come a long way from her cakey makeup days to the new found days of minimal makeup that highlighted her strong features to the hilt.
A strong fitness game
Fitness was never the most important thing in the list of priorities for tinsel town ladies back then. With new age fitness revolution gripping B-town, we also saw Kajol flaunt a leaner and fitter frame in her comeback movie, Dilwale, opposite Shah Rukh Khan.
Ditching those garish outfits for ravishing ones
The biggest change that Kajol adopted was to ditch those garish outfits for a well-put together look and enlisting the styling precision of fashion stylist, Radhika Mehra.
Hair and there
While her hair game was always strong, Kajol has been flaunting those long locks with some chic hairdos and soft waves.
Living by the mantra, keep it simple but significant, Bollywood's powerhouse of talent, Kajol Devgan is one of the diva to reckon with and this sartorial transformation speaks volumes about her grit, determination and a strong sense of self.