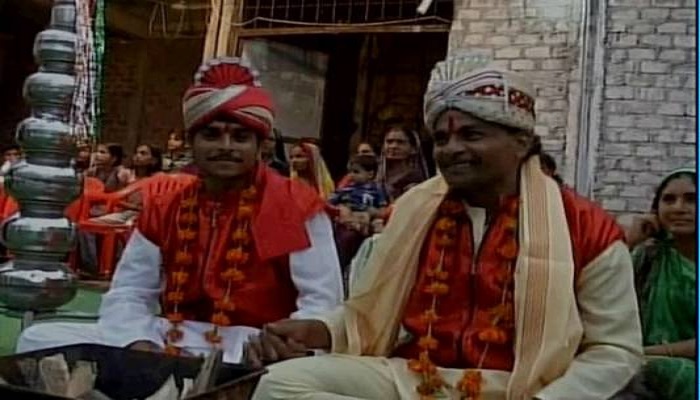 It was a symbolic gesture, nonetheless, is a heartening development for the gay community in the country, which faces big backlash from the society and has no legal support at all.
The traditional Indian society does not approve of any same sex relationship, neither does our law. But when it comes to appease rain god, especially at a time when several parts of the country is reeling under drought, some people could definitely throw caution to the wind.
Like in this instance in Indore, Madhya Pradesh, when two men in their wedding finery decided to exchange vows to appease the rain god, which remained elusive to the parched land of the city.
On Thursday, Indore-based men, Sakaram Ahirwar and Rakesh Adjan, got married in a traditional Hindu wedding just to appease the rain god.
The wedding followed everything that is done in a regular Hindu marriage. From saat pheras to Bollywood songs, the wedding was a grand one. 
Even it rained during the wedding ceremony, reinforcing the belief of the couple that if two men get married even rain god does not miss the occasion. However, it was 'symbolic gesture' and thus even the wives and children of the two already married men attended this special wedding.
"There was no bride. Both Sakaram and Rakesh were grooms in this marriage. They tied the knot as a gesture to draw Indradev's attention for good rain on Indore," Organiser Ramesh Singh Tomar said. 
"The Indians have taken to western culture and same sex marriages and live-in relationships are now a common thing. It gave me the idea of performing a marriage between two men as a gesture to please the gods for rainfall," he added. 
After the rituals got over, the guests were treated with a sumptuous meal. As far as the newlywed couple is concerned, both went to their respective homes accompanied by their wives and children, after the wedding got over.