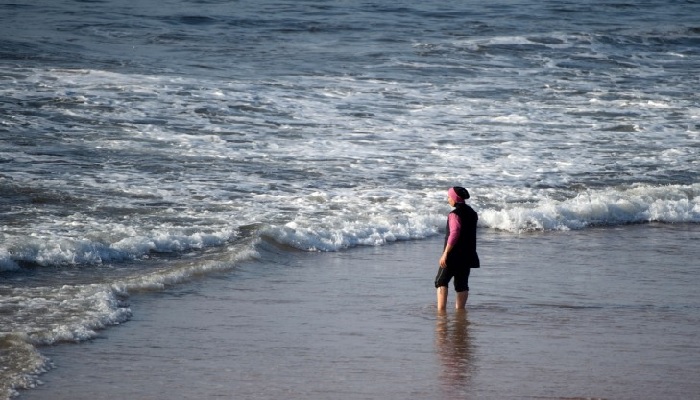 A Muslim lady, who rented a private holiday house near Marseille in France, was forced to pay €490 for polluting the property's communal pool by swimming in it wearing a burkini. The owner said that the swimming pool had to be emptied and cleaned after her swim.
Fadila, the lady, had rented the house with her husband and three children near Marseille. She swam with her children while wearing a burkini on the first day of her vacation without facing any trouble. However, on the second day, a member of the staff asked everyone to get out of the pool after seeing Fadila swimming in her burkini.
"Fadila was contacted by the owner of the residence later, who told her that he had received a complaint from the administration of the building. The administration claimed that a woman wearing a veil swam in the pool wearing her clothes and refused to get out of the water when requested to," a source said.
Fadila, however, says that no one asked her to leave the pool in the first place. "I was stunned because no one had stopped me or said anything at all," she said. 
The owner then contacted Fadila's husband asking him to make sure that his wife refrained from swimming in the pool for the rest of their stay. He also said that the couple would have to pay for the cleaning of the pool and also the damages caused because the pool was out of use for two days after Fadila swam in it wearing her burkini.
The husband, however, refused to pay claiming that the pool was never emptied or cleaned after Fadila swam in it and that it was operating the next day. His refusal to pay for the cleaning of the pool and the damages prompted the owner to keep the deposit amount of €490, paid to him by the couple, without producing an invoice for treatment of the pool or other charges.
"I was disappointed, shocked, wounded by the fact that someone could be so hypocritical and wicked because of a burkini," Fadila said. 
The CCIF has been insisting that Fadila did not swim in her regular clothes but in a suit made for the water and, therefore, does not pose any threat to hygiene.
There has been a growing debate in France over Muslim women wearing burkinis with Cannes, the iconic resort town in France, having banned the swim suit in 2016.