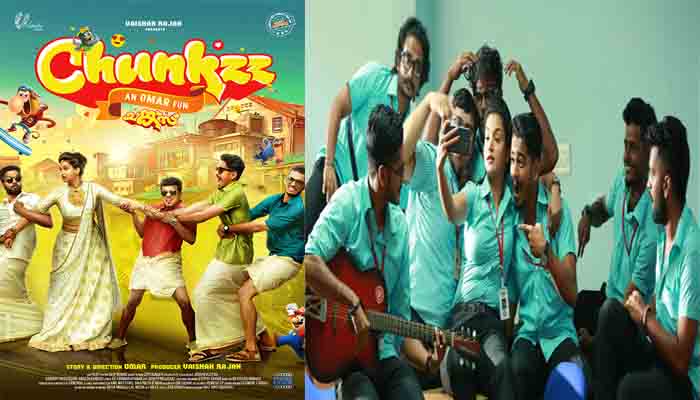 Omar Lulu had repeated the same magic as his debut movie Happy Wedding in Chunkz also, simple we can conclude the movie in one line. Chunkz directed by Happy Wedding fame director Omar Lulu is the latest release which had become a trend setter in a short period.
The movie was produced by Vaisakh Rajan had produced this movie under the banner of Visakha Cinema and Joseph Vijeesh and Aneesh Hameed had penned the story. Lead roles were handled by artists like Balu Varghese, Vishal Nair, Honey Rose, Mareena Michael, Ganapathy, Dharmajan Bolgatty. Senior stars like Lal and Siddique also played an important role.
If Happy Wedding was a surprise hit, Chunks is becoming a pre-planned one. A fun filled movie and a complete youth entertainer. Teaser of this movie had got the great response as well.
This movie depicts the life of Mechanical Engineering students Romario, Yoodas, Riyas and Aathmaram are final year mechanical students who are very disappointed for not having a female classmate. But. When Riya joins college, that too in the Mechanical department the whole story takes an upwards down twist and heavily pulled the string to make viewers keep till the climax.
The performances from the young brigade are the highlight of this flick. Balu Varghese once again took the show with his cool and energetic and vibrant performance and is expected to see as an emerging actor in many featured roles. Vishak Nair and Ganapathy also did very well and we can say that Dharmajan had stolen the show with his impeccable comedy timing. Honey Rose looked charming and her performance too was very good.
DOP of this movie was Alby and his visuals set the youthful and colourful atmosphere which was required to tell the story. Music from Gopi Sundar too had blended really well with the theme of this movie. Background scoring was also very much energetic and sensible. Dilip Dennis had done a great job with his crisp cuts.
The movie has earned a so far tag 'Omar fun' which is worth watching. "Come, laugh, have fun" That's all they assured and successfully kept to their words