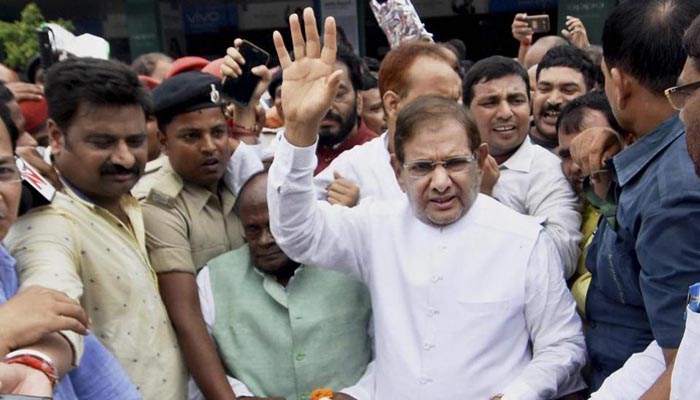 The JD(U) on Saturday removed Sharad Yadav as the party's leader in Rajya Sabha, citing "anti-party activities" by the senior leader as the reason for the dismissal.
"This was important due to Yadav's recent actions. It was a necessary step because being a leader if a person indulges in anti-party activities, it has to be condemned unanimously," Bihar JD(U) president Vashishtha Narayan said.
He further confirmed that Yadav will be replaced by Bihar MP R C P Singh. "Met Vice President and gave in writing that we have elected R C P Singh as our leader in Rajya Sabha," Narayan said.
A 1984 batch IAS officer from the UP cadre, Singh took voluntary retirement from the civil services in 2010 to join the JD(U). A close aide of Nitish Kumar, party sources claim Singh was the one who came up with the idea of a grand alliance ahead of the Bihar Assembly election in 2015
Yadav's replacement is the latest action being taken against JD(U) members who had expressed disapproval of Bihar chief minister Nitish Kumar's decision to walk out of the grand alliance and form the government with the BJP.
Nitish also suspended MP Ali Anwar from the parliamentary party group on Friday for participating in the meeting of Opposition parties convened by former alliance partner Congress.