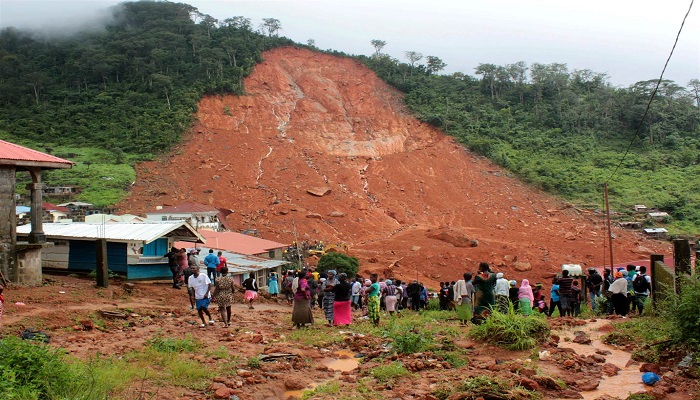 After the devastating floods and mudslides that occurred near Sierra Leone, officials were forced to burry nearly half of the 400 people known to have died in the natural catastrophe. About 600 people are still missing following the disaster.
President Ernest Bai Koroma has declared seven days of mourning while pleading for "urgent support". The burials involved people who had already been identified or whose bodies were badly decomposed, Freetown's chief pathologist Dr. Simeon Owizz Koroma said. They have been taken to a mass grave in Waterloo known as the Ebola cemetery after the 2014 disease outbreak, which killed nearly 4,000 people in the country.
Some international aid for the thousands of people left homeless by the mudslide has begun to arrive in the country. Volunteers said there were more bodies inside the mortuary that urgently needed to be buried because they had decomposed.
The dead included more than 100 children. The Red Cross has warned it is a race against time to find survivors. The search is taking place using diggers and makeshift tools.
Homes in the hilltop community of Regent were engulfed after part of Sugar Loaf mountain collapsed following heavy rain early on Monday. Many victims were asleep in bed when disaster struck. Flooding is not unusual in Sierra Leone, where unsafe housing in makeshift settlements can be swept away by heavy rains.
The rains often hit areas in and around Freetown, an overcrowded coastal city of more than one million people.