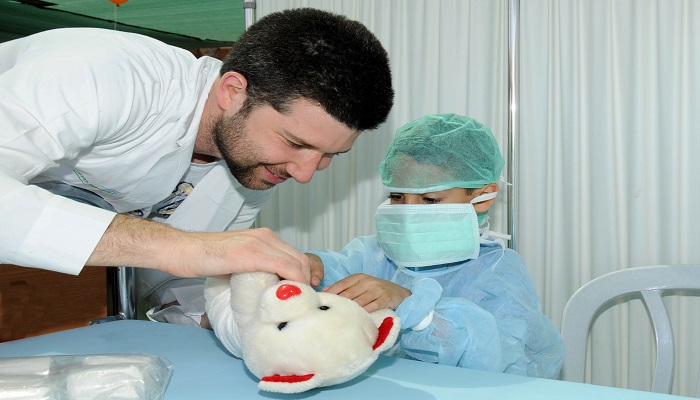 A first of its kind facility in the UAE, A teddy bear hospital has been launched to help minors overcome anxiety while seeing a doctor.
The Mohammed Bin Rashid University of Medicine and Health Sciences (MBRU) houses the hospital which is a part of a programme designed to teach school children hands-on about medical procedures and to decrease any preconceived fears of doctor visits.
Vice-President and Prime Minister of the UAE and Ruler of Dubai Sheikh Mohammed bin Rashid Al Maktoum attended the first session of the hospital along with four children.
The hospital allows children to check in with their 'sick' teddies. In the opening session, teddy bears underwent a 'CT scan', and were led into the surgery ward to get anesthetics before their operation.
The Teddy Bear Hospital session kicked off with the children changing into their personalized scrubs. Then they were led to the Simulation Centre by the team and a number of MBRU medical students where they checked-in their teddy bears into the hospital.
Upon admission, the children met the doctors to discuss their bear's medical situation. They awaited their respective teddy bear at the observation room where they were brought out with an intravenous (IV) drip and bandages.
Helen Henderson, lead simulation educator at MBRU said: "Teddy Bear Hospital creates a unique educational opportunity for children across the UAE. It's a great initiative, and one of its kind in the country. The programme introduces children to the basics of healthcare through firsthand experiences where we aim to downplay the fear children experience when they go to hospitals."
"We want to diminish any negative feelings of anxiety the children experience when visiting a doctor. In the future we hope to tie this programme with the school curriculum, and make it a part of the overall education experience in the UAE," Henderson added.