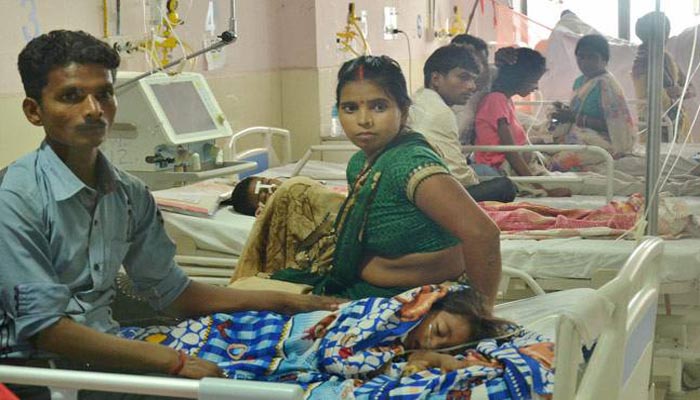 Four names in the FIR in connection with Gorakhpur's BRD Medical College tragedy were found to be untraceable. The FIR was filed in Lucknow's Hazratganj police station after their names figured as accused in chief secretary Rajive Kumar's report on the tragedy. Another accused — Dr Kafeel Khan —was found to be ill and on bed rest.
There is no official confirmation on their whereabouts yet. Former BRD principal Dr Rajeev Mishra and his wife Purnima Shukla, both accused of taking the commission in the supply of oxygen, equipment purchase and outsourcing employees, are said to be untraceable for the last few days and their residence-cum-clinic at Betiahata is lying deserted. Another co accused, Dr Sateesh, in charge oxygen supply and chief pharmacist Gajanan Jaiswal, was also not traceable.
Dr Purnima Shukla runs her homoeopathic maternity clinic at a multi-storey building in city's posh locality. While she was employed at Gola community health centre, she had also managed to take the additional charge of BRD's homoeopathic centre, using her influence. As her role came under a scanner, she was sacked from the post.
Sources said it was she who took the decision on contract on oxygen supply and other financial matters, setting aside rules.
While she is accused of taking 12% to 14% commission on oxygen supply, outsourced employees were hired on commission between of Rs 50,000 and Rs 3 lakh, sources said. "She has not come here for last several days," said Shukla's neighbour.
Dr Rajeev Mishra's official residence on the college campus was also found to be locked and there is no clue about his whereabouts.
All the accused had also failed to turn up for the inquiry conducted by Indian Medical Association (IMA) team last week.
Dr Kafeel, nodal in charge, NHRM, is ill and taking rest at his residence in Basantpur.
Booked for corruption and private practice, Dr Kafeel's private hospital Medispring is lying closed since his role came under the scanner, despite reports that he saved many lives during.