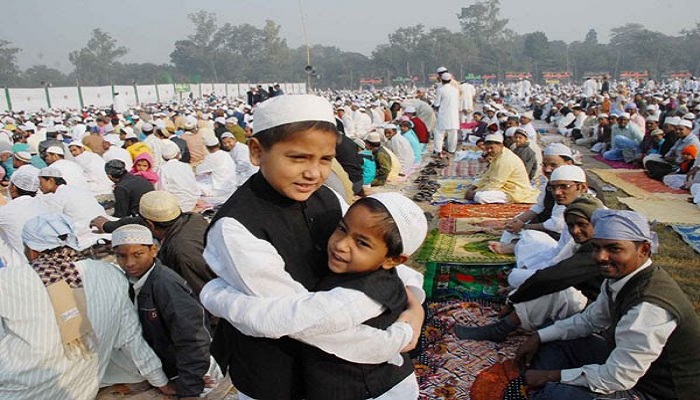 The Muslim community in India is an integral part of the intricate cultural, social and economic fabric of the country. Hence, all the Muslim festivals are celebrated with great respect and enthusiasm throughout the country.
Among the number of Muslim festivals celebrated across the nation and world, 'Eid ul-Adha' or 'Bakrid' holds a special place in the hearts of the entire community. This holy day in Arabic is known as 'Id-ul-Adha' and means "Feast of the Sacrifice". This festival was named thus, as its origin lay in the Islamic history as per which, it was on this day that God decided to test the faith of Abraham. It so happed, that Abraham, who was one of the Prophets of God saw a dream in which, the almighty commanded him to sacrifice his son.
Abraham and his son both showed willingness to perform this ultimate sacrifice and just as after slitting his son's throat Abraham looked at the alter, where he expected to find his son's lifeless body. He saw a dead ram instead and his son was standing hail and hearty. God delivered his son from death, as the duo had passed his test of faith. Thus, to commemorate the devotion, spirit of sacrifice and unquestioning faith in the almighty, Muslims perform animal sacrifice and offer prayers, to mark this occasion.
The celebrations of Bakrid also corresponds with another significant event that occurred in the history of Islam i.e. the completion of the holy Quran, this makes the revelry twofold.
Significance of Bakrid
All Muslim festivals are celebrated with great zeal and fervour in India. Bakra Eid or Eid al-Adha holds a special place in the hearts of the Muslim community throughout the world and Indian Muslims are no exception to this zealous sentiment. When translated into English, the festival is also known as 'Feast of the Sacrifice'.
When is Bakrid Celebrated
'Eid al Adha' or 'Eid ul Zuha' or 'Bakrid' is one of the most important festivals in the Muslim lunar calendar, known as the Hijri calendar. This holy day is celebrated by the Muslim community throughout the world on the 10th day of the month of Dhul Hijjah. It occurs after the Hajj pilgrimage, which is the fifth pillar of Islam, undertaken by the Muslims. It is celebrated with ritualistic fervour in Andhra Pradesh and in particular, the old city of Hyderabad.
Bakrid Recipes
Bakrid is a day of rejoicing for Muslims not just in India but across the world. This holy day symbolizes sacrifice, faith and devotion. It is enjoyed by one all and is marked by great feasting, once the prayers are offered to the almighty.