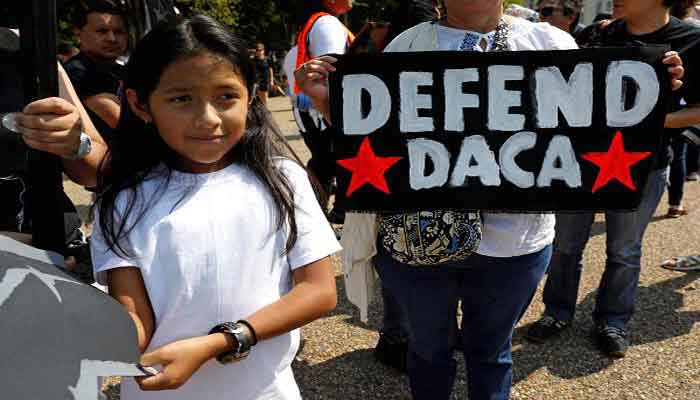 Almost fifteen states and the District of Columbia sued to block President Donald Trump's plan to end a programme protecting young immigrants from deportation, an act Washington state's attorney general called "a dark time for our country."
The lawsuit was filed in the Eastern District of New York. The plaintiffs were New York, Massachusetts, Washington, Connecticut, Delaware, District of Columbia, Hawaii, Illinois, Iowa, New Mexico, North Carolina, Oregon, Pennsylvania, Rhode Island, Vermont and Virginia.
Attorney General Jeff Sessions said a programme, known as the Deferred Action for Childhood Arrivals or DACA, will end in six months to give Congress time to find a legislative solution for the immigrants.
The participants were brought to the US illegally as children or came with families who overstayed visas.
Those already enrolled in DACA remain covered until their permits expire. If their permits expire before March 5, 2018, they are eligible to renew them for another two years as long as they apply by October 5. The programme isn't accepting new applications.
Opponents of the programme said they are pleased with the Trump administration's decision. They called DACA an unconstitutional abuse of executive power but proponents of the programme said the move by Trump was cruel.
Washington Attorney General Bob Ferguson said the action violates the due process rights of the immigrants.
"It's outrageous, it's not right," an emotional Ferguson said at a news conference in Seattle. "As attorney general for the state of Washington, I have a hammer, it's the law."