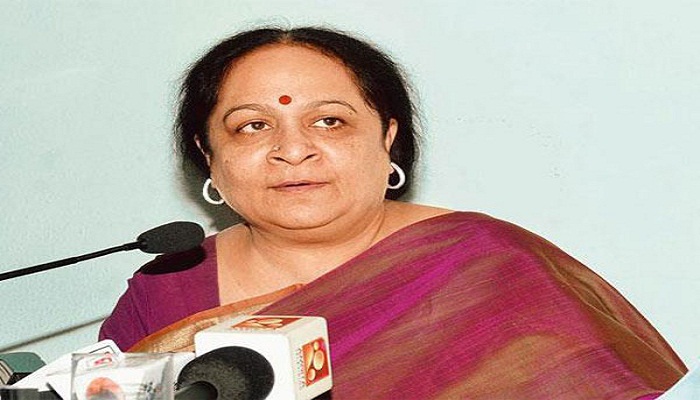 The Central Bureau of Investigation (CBI) on Saturday booked former environment minister Jayanthi Natarajan and raided her residence, in connection with the clearance given to divert forest land in Jharkhand for mining during her tenure, allegedly in violation of several laws.
Apart from Chennai, the agency carried out raids at five places across the country and recovered several incriminating documents. Searches were carried out in Delhi, Jharkhand's capital Ranchi, Sundergarh district in the northwestern part of Odisha, and Kolkata in West Bengal.
The raids, which began at her Alwarpet residence at 5.30 am, were based on an FIR registered for criminal conspiracy and abuse of official position on Thursday. The FIR named Natarajan, who was a minister of state under the Congress-led United Progressive Alliance (UPA) 2011 to 2013, Umang Kejriwal, former MD of Electrosteel Casting Limited, the company, and other unidentified persons.
According to the FIR, as a minister of state for environment and forests in 2012, Natarajan granted environmental clearances to Electrosteel Casting Limited for mining projects in the Saranda forest of Jharkhand, in violation of the Forest (Conservation) Act, 1980.
Natarajan's predecessor Jairam Ramesh had denied a nod to the project. Also, Forest Advisory Committee had rejected the project proposal multiple times as the mining area was part of the core zone of Singhbhum Elephant Reserve and critical to wildlife conservation.
"Natarajan accorded the approval for diversion of 55.79 hectares of forest land for non-forestry use to ECL, though the same had been rejected by the earlier minister of state…without any change in the circumstances after rejection," the CBI FIR alleged.
It further said this approval was accorded without adhering to the advice of Director General, Forests, and directions of the Supreme Court (SC).
Interestingly, Natarajan, who is the granddaughter of former Tamil Nadu Chief Minister M Bakthavatsalam, quit the Congress in January, 2015, after alleging in a letter that she was asked to look into "specific requests" by the office of party Vice-President Rahul Gandhi during her tenure.
She had resigned after the CBI filed a preliminary inquiry into this case. Congress spokesperson Abhishek Singhvi rubbished her claim and alleged that she wrote under pressure from those who coined the phrase 'Jayanthi Tax'.
During the 2014 general election campaign, Narendra Modi, who was the then BJP's Prime Ministerial candidate, had alleged that all files in the MoEF were pending because of a new tax in Delhi, 'Jayanthi tax', and unless it was paid, no file moved in the ministry.