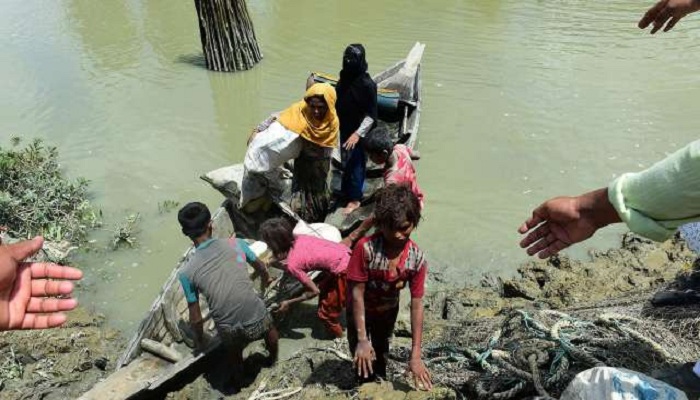 Bangladesh has agreed to free land for a new camp to shelter Rohingya Muslims who have fled recent violence in Myanmar, an official said today.
The new camp will help relieve some pressure on existing settlements in the Bangladeshi border district of Cox's Bazar, where nearly 300,000 Rohingya have arrived since August 25.
"The two refugees camps we are in are beyond overcrowded," said UN refugee agency spokeswoman Vivian Tan.
Other new arrivals were being sheltered in schools, or were huddling in makeshift settlements with no toilets along roadsides and in open fields. Basic resources were scarce, including food, clean water and medical aid. Still, more refugees are arriving. 
"Tomorrow we are expecting an airlift of relief supplies for 20,000 people," Tan added. 
"Prime Minister Sheikh Hasina had offered 2 acres near the existing camp of Kutupalong to build temporary shelters for the Rohingya newcomers," according to a Facebook post today by Mohammed Shahriar Alam, a Junior Minister for Foreign Affairs.
He also said that the government would begin fingerprinting and registering the new arrivals today. Hasina is scheduled to visit Rohingya refugees tomorrow.
Aid agencies have been overwhelmed by the influx of Rohingya, many of whom are arriving hungry and traumatized after walking days through jungles or packing into rickety wooden boats in search of safety in Bangladesh.
Many tell similar stories of Myanmar soldiers firing indiscriminately on their villages, burning their homes and warning them to leave or to die. Some said that they were attacked by the Buddhist mobs.
The government hospital in Cox's Bazar has been overwhelmed by Rohingya patients, with 80 arriving in the last two weeks suffering gunshot wounds as well as bad infections.
At least three have been wounded in land mine blasts, and dozens have drowned when boats capsized during sea crossings.
The violence and exodus began on August 25 when Rohingya insurgents attacked Myanmar police and paramilitary posts in what they said was an effort to protect their ethnic minority from persecution by security forces in the majority Buddhist country.
In response, the military unleashed what it called "clearance operations" to root out the insurgents. Accounts from refugees show the Myanmar military is also targeting civilians with shootings and wholesale burning of Rohingya villages in an apparent attempt to purge Rakhine state of Muslims.