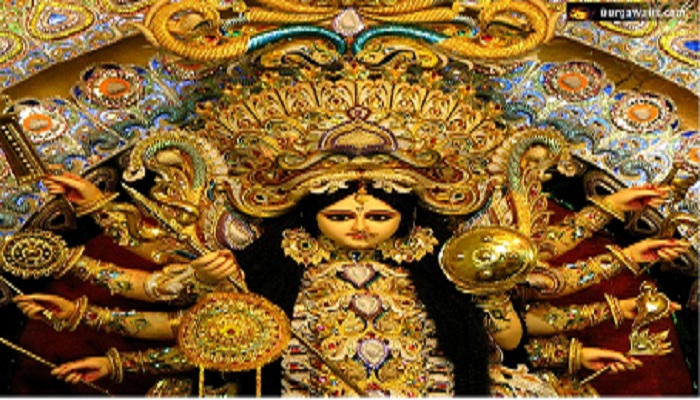 Navratri, one of India's biggest festival celebrated by the Hindus, is observed with great fanfare and devotion for 9 nights and 10 days.
Though there are four seasonal Navratris, two are widely celebrated, one known as the Chaitra Navratri observed in March/April, another known as the Sharad Navratri observed in September/October. This year the festival which started on September 21, ends on September 30.
It is observed for different reasons and celebrated differently in various parts of India and there are many parallel histories associated with it. But mostly, it is believed that during this time Goddess Durga defeated Mahishasur, the buffalo demon who signifies evil and ego. There is a history of Ramayana too associated with the festival as it was on the day of Dashami, the day after Navratri ends, Lord Ram killed Ravan.
During the nine days, devotees solemnly fast and worship the nine manifestations or forms of Goddess Durga, also known as Shakti. The Sharad Navratri or autumn Navratri is celebrated in the lunar month of Ashwin according to the Hindu calendar. Each day has a special significance, and one form of the Goddess is worshipped. Each day is also associated with one colour, and one planetary body.
Here are the Navadurgas that are worshipped on Navratri :
Day 1 – Shailaputri
Known as the Pratipada, Shailaputri is worshipped on this day. Goddess Parvati is the daughter of Himalaya, the mountain. In Sanskrit, 'Shail' means the mountain and thus she is also known as Shailaputri. The goddess in this form rides a bull, carrying a Trishul in her right hand and lotus in the left hand.
Day 2 – Brahmacharini
On Dwitiya, goddess Brahmacharini is worshipped. Here the goddess walks bare feet; a japamala and a kamandalu can be seen in her hands. In this form, Parvati became the great Sati and her unmarried self is worshipped as Brahmacharini.
Day 3 – Chandraghanta
Goddess Chandraghanta is worshipped on Tritiya. The name derives from the fact that after marrying Lord Shiva she started adorning half Chandra (moon) on her forehead. Here the devi has 10 hands and rides a tiger.
Day 4 – Kushmanda
On Chaturthi, Devi Kushmanda is worshipped. Also known as the creator of the universe, Kushmanda is also known as the goddess who has the power and capability to reside inside the Sun. She has eight hands.
Day 5: Skandamata

Goddess is worshipped on Panchami. Skandamata or mother of Skanda also known as Lord Kartikeya; rides a ferocious lion along with the baby in one of her hands. The Goddess has four hands.
Day 6: Katyayini
Devi Katyayini is revered on Shasthi. Known as the warrior goddess, it is considered one of the most violent forms of Goddess Parvati. The name derives as she was born to Rishi (sage) Katya. In this avatar, the Devi rides a lion and has four hands.
Day 7: Kalaratri
On Saptami, Devi Kalaratri is worshipped. Legends go to say that she forgo her skin colour and embraces a dark complexion as black to kill demons Shumbha and Nishumbha. Riding a donkey she has four hands here.
Day 8: Mahagauri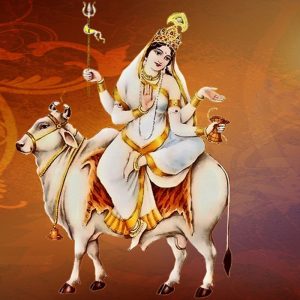 Known as Ashtami, Mata Mahagauri is worshipped on this day. Mahagauri means extremely white ('maha' meaning great and 'gauri' meaning white). The name derives from the fact that Parvati had a fair complexion. Here she rides a bull and has four hands.
Day 9: Siddhidaatri
The last day of the festival also known as Navami, people pray to Devi Siddhidaatri. Sitting on a lotus, she is believed to possess and bestow all types of Siddhis. Here she has four hands.