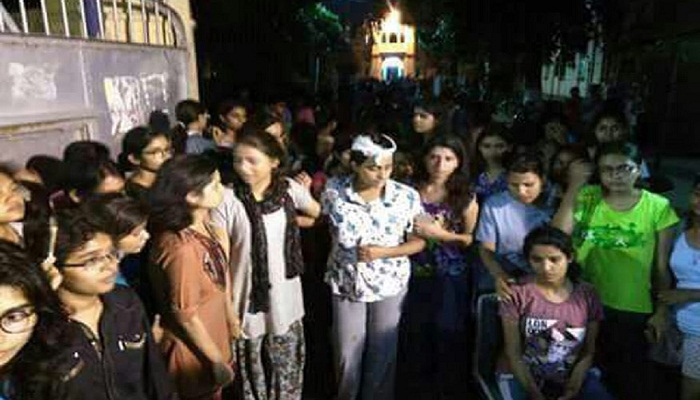 Protests in Banaras Hindu University against the alleged sexual harassment of a student took a violent turn on Saturday night when seven students, including girls, and two journalists were injured in police lathi-charge.
Police were able to bring the situation under control only by 3am on Sunday. However, the campus remains tense, forcing the administration to advance puja holidays by three days. The campus will remain shut till October 2.
Protesting students were trying to enter the V-C's house on Saturday night when they were caned. In retaliation, students reportedly hurled petrol bombs and resorted to brick-batting in which some cops were injured. The violence erupted hours after PM Modi left Varanasi after a two-day visit.
As news of the police action spread, solidarity protests were held by students in DU, AMU and in Dehradun. More protests are planned in Delhi on Monday.
Trouble started in BHU on the night of September 21 when students of a girls' hostel sat on protest following the alleged sexual harassment of a student of visual arts near Bharat Kala Bhawan. The girl said she was harassed by three boys on a motorcycle while returning to her hostel in Triveni complex.
Students alleged that campus security guards who were standing just 100 metres from the spot didn't react. The girl said her warden, instead of taking up the issue, asked her why she was returning to her hostel late. The warden's response angered the fellow students, who sat on a 'dharna' on Thursday.
With the campus under the shadow of over 1,500 security men on Sunday, frantic political activity took place outside. UP Congress Committee chief Raj Babbar and former Congress MP PL Punia were arrested while trying to reach the campus.
They were later released.Taking cognisance of the violence, CM Yogi Aditya Nath has sought a report from divisional commissioner Nitin Gokarn.
Three FIRs had been lodged by the BHU administration — first for the sexual harassment of the girl student, second for the violence on campus and the third for display of "provocative photographs" on a Facebook page.