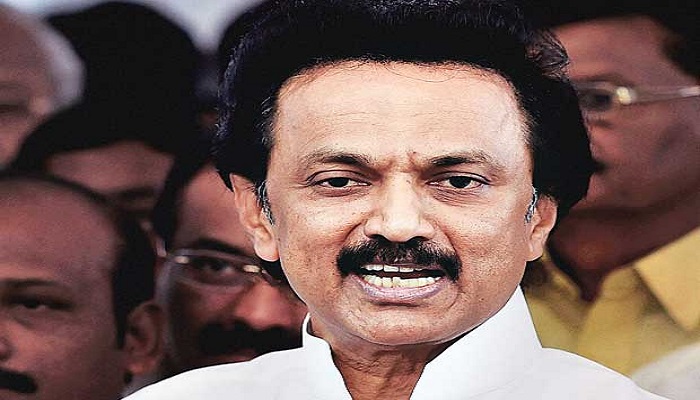 Latching on to the Forest Minister Dindigul C. Srinivasan's statement that they "lied to the people" about J. Jayalalithaa's death, the Leader of Opposition M.K. Stalin on Sunday demanded that the Union Government order a CBI probe into the late Chief Minister's hospitalisation and her subsequent passing away last year.
Since the Union Government sent three top doctors from AIIMS and it was aware of the treatment given to her, it was imperative on the Centre to order a probe and clear the air over several doubts and conspiracy theories, Stalin said.
In a statement on Sunday, the DMK Working President referred to Srinivasan's public speech on Friday in which he said that the AIADMK leaders had "lied" that Jayalalithaa ate idlis and her health was improving during her 75-day stay at Apollo Hospitals here.
"A team of doctors from AIIMS in New Delhi had come to attend on Jayalalithaa and monitor her health. And moreover, Union Health Minister J.P. Nadda had said the Centre was keeping a watch on her health. Since the central government had assisted in the treatment of Jayalalithaa, it has a responsibility to unravel the mystery surrounding her death," Stalin said. "Therefore, using its authority, the Centre should immediately order a CBI probe into the matter," he said.
Stalin and his DMK have alleged that there was "deep mystery" in the hospitalisation and subsequent death of Jayalalithaa and demanding a detailed CBI inquiry into the matter. In his statement, Stalin also recalled that his father and DMK chief M. Karunanidhi had demanded the release of Jayalalithaa's photographs when she was hospitalised to ensure that people know the truth.
"AIADMK leaders criticised the statement then. But now, the same leaders are not just demanding photographs, but video footage of Jayalalithaa's hospital stay," Stalin said, referring to the war of words between EPS-OPS camp and Dhinakaran faction over the issue.
Stalin also questioned the veracity of Jayalalithaa's signature on a statement made in her name during her hospitalisation seeking support for AIADMK candidates in the polls to Thanjavur, Aravakurichi and by-polls to Thiruparankundram constituencies last year.