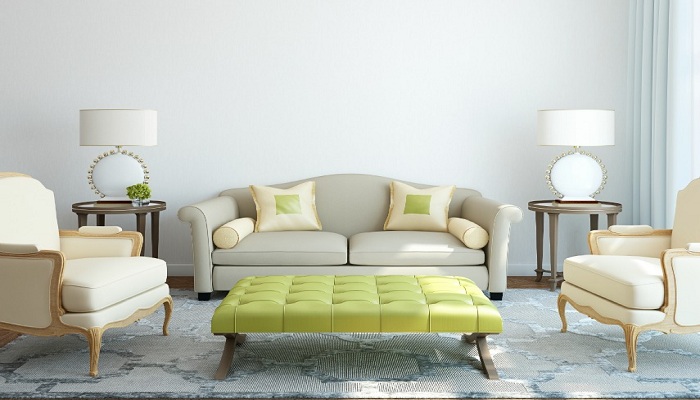 Good living rooms have some things in common. They are harmonious, elegant and fit in with the taste and personality of the people who use it. You can have endless possibilities and ideas to decorate your living room.
It can be a place for social gatherings, or a space to watch TV together in the evening or also can be used as a dining space when a room separator is implemented. So, before buying furniture for the living room it is important to take care of the functional needs.
While designing your living room, it's a good idea to think about certain key aspects like space available, the colours to be used, the kind of furniture and accessories you fancy. When styling larger rooms, use of space is crucial.
Strategic use of carpets, furniture can help to a balanced environment, that is pleasurable to spend time in. But if there is space constraint, it is all about giving the impression of space. Select clever colour schemes for the walls, add textures with bricks or tiles, and find the right balance of furnishings to create a relaxing atmosphere. You can also style up the room using vivid colours or cool, pastel tones as per your wishes.
Wall colour
A living room is the space where people spend plenty of time, so it is important to create a balanced atmosphere. Usually, for smaller rooms, white walls or pastel tones are appropriate. Bold colours can optically reduce the impression of space. However, in larger living rooms, you can use vivid colours and patterns, depending on the style that is being implemented.
Type of flooring
There are plenty of options to use for living room floors, and you can choose from stone, wood and tiles or even cover the floor entirely or partly with a carpet. A rug or carpet will create a soft and comfortable surface for the colder months.
In cooler climates, it's a great idea to have a soft furnishing to add some extra comfort. Also wooden furniture can be used timelessly and gives the impression of elegant and classy. High quality wooden floor could be perfect for your living room but requires high maintenance.
Living room decorating tips
The best advice while decorating a living room is to find a balance between modern and flexible furniture. In smaller living rooms, make maximum use of the space by installing the television in a wall-mounted cabinet. Don't go overboard on decoration, and try to manage the amount of seating space so that people can move around easily.
Many people also like to include a decorative focal point like a mirror or painting to to the room. Flowers located around the room add to a light, organic effect. Balance and harmony are key at all times when designing a living room.
Small living room
A small living room can present a few design challenges, but with the right design ideas, small spaces can be transformed to create magnificent living rooms. Small living room ideas include using lighter colours to give the impression of space, and avoiding bright tones.
Try not to fill the room with accessories and decorative stuff, although a couple of paintings or flowers are welcome. Using clever furniture in the living room and paying attention to light makes the space cosy and welcoming.