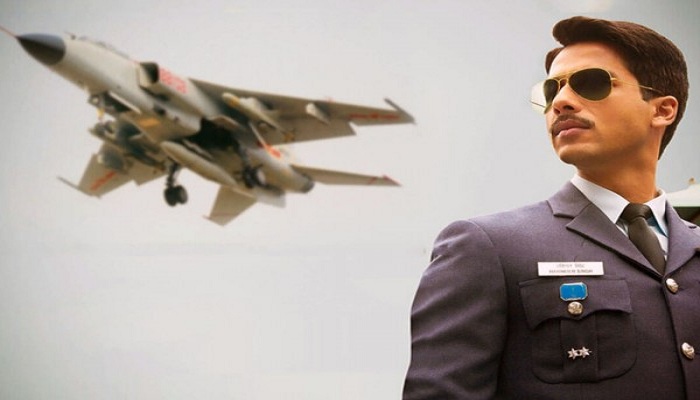 We tend to leave behind the patriotism in us in our day to day life. It appears only twice either during an India-Pakistan match or while we watch reports on border issues.
For a country like India where citizens don't have an easy access to knowledge when it comes to armed forces, there is Bollywood which spun stories which portray air force's internal mechanisms and the life of those who work there.
On the occasion of Indian Air Force day, we bring to you 5 Bollywood films set against the backdrop of air forces.
Mausam (2011)
The romantic film starts in the early 90s when Harry (Shahid Kapoor) falls head over heels in love with Aayat (Sonam Kapoor). But fate has different plans for them.
Aayat leaves her home in Kashmir and moves to a relative's place in Punjab while Harry joins the Indian Air Force. The story spans over a period of 10 years, from 1992 to 2002, and includes actual unfortunate events with references to Demolition of Babri Masjid, Bombay Riots, 1993 Bombay bombings, Kargil War, 9/11 attacks and Post-Godhra Riots.
Agnipankh (2004)
The romance-in-the-midst-of-war film is directed by Sanjiv Puri and stars Jimmy Shergill, Rahul Dev, Divya Dutta and Richa Pallod in the lead roles.
The film is based on the life of three pilots who are taken captive by Pakistan. The pilots in jail meet other Indians and together they plan a jailbreak.
Vijeta (1982)
The film beautifully portrays inner workings of the Indian Air Force and the life of Indian Air Force pilot. The film revolves around the life of a teenager Angad (Kunal Kapoor) who is caught between the marital problems of his parents.
When the time comes to decide what he wants to do with his life, he chooses to become a fighter pilot with the Indian Air Force. The film shows his efforts to become a victor both with his self and outer world.
Vijeta is popular for some rare aerial photographs that features combat fighter aircraft that was then available with the air force.
Hindustan Ki Kasam (1973)
Directed by Chetan Anand, 'Hindustan Ki Kasam' vividly describes Indian Air Force's role in the 1971 Indo-Pak war, particularly on Operation Cactus Lilly.
The film stars Raj Kumar, Priya Rajvanshi, Vijay Anand, Balraj Sahni, Amrish Puri and Amjad Khan, in lead roles and is considered one of the best films ever made in Bollywood.
Lalkaar (1972)
Directed by Ramanand Sagar, Lalkaar is based on a Hindi novel written by the director. The film was one of the highest grosses in 1972 and also considered as one of the costliest war film produced at that time.
It stars Dharmendra, Rajendra Kumar, Mala Sinha and Kum Kum in lead roles. It shows the life of two brothers, one in Royal Indian Air Force (RIAF) and the other in the Royal Indian Army, who are sent on a mission against the Japanese invaders. The twist in the story is that both brothers are in love with the same girl.