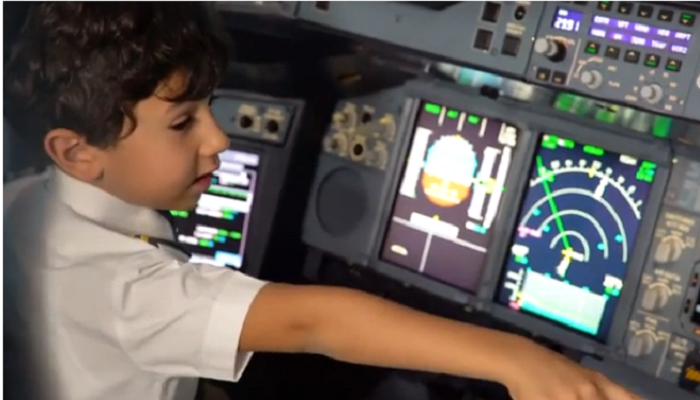 Etihad Airways invited Adam Mohammed Amer, of Egyptian-Moroccan origin, to fly his favourite Airbus A380 in the Etihad training academy, in a bid to make his dreams of flying a plane come true.
The airline posted of a video of the child's experience, displaying his excitement while flying the Airbus A380.
"That's your disconnect ABU, and that's mine," the child, dressed in a pilot suit specially-made for him, is heard telling his co-pilot in the cockpit while taking off.
6-year-old genius Adam's video had gone viral when he approached pilots at the cockpit and told them exactly what happens during emergency flights, using technical aviation knowledge.
"Some planes have a Ram air turbine. It gets emergency systems back on if the engines fail. The Ram [air] turbine can help to bring back the systems," he was heard telling Captain Samer Yakhlef.
"He was very happy. Captain Samer along with other pilots and cabin crew welcomed him on board and gave him a real flight experience," said his father Mohammed.
He added that Adam was asked to try emergency situations to test his reactions towards them. "He asked to try engine failing and what happens when the landing gear isn't released. He wanted to try reacting to them as a pilot to see how can he save the plane," said Mohammed.
The child spent about five hours being a pilot.
In a statement, Etihad Airways said the crew was "amazed by Adam when he came to talk to us in the cockpit".
"We wanted to make his dreams a reality. Adam became an Etihad pilot for a day, and actually had the opportunity to fly his favourite aircraft in our training academy."
The statement from the airline added that on board a flight from Morocco to Abu Dhabi, the Etihad cabin crew noticed that the boy clearly wanted to fly the plane and was passionate about aircraft. They decided to create the opportunity of a lifetime for Adam, by inviting him into the cockpit."