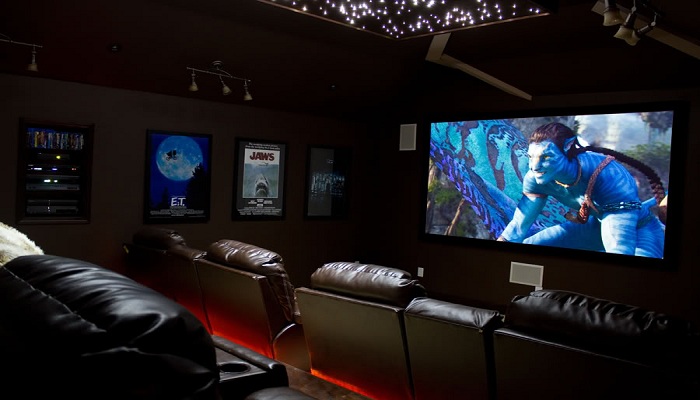 Modern home cinema
The first thing to be done when making a modern home cinema is to identify it's location. It should ideally be in a place where there is less exposure to noise and natural light.
Natural light should be kept to the minimum because it can interfere with the movie viewing experience. The furniture should be selected keeping the highest levels of comfort in mind.
Also, the furniture should be placed in such a way that everyone sitting, should be able to view the screen. High definition screen and other equipment enhance the look of the modern style home cinema. Minimal art pieces and paintings or movie posters on the wall would make it the perfect home cinema. 
Industrial style home cinema
The industrial style of home cinema has more of a spacious environment that the other styles. With large sitting area and more accommodating space, the industrial style has a modern yet minimalist look in it. This theme is primarily about the use of leather and dark colors.
For those who wish to follow this theme, the use of leather bean bags and dark colored carpets as well as dark paint on the wall would be a good way to start. Wood flooring would be a good option and the use of decorative items should be kept to a minimum. The use of recliners in this case would give the most comfort. Complete the look with a trendy dark wood bar in the corner of the room.
Country style home cinema
A very lavish yet country style may include a comfortable seating area with cosy wooden furniture in it. The room may have beautiful curtains and windows with effective lights falling inside the room.
The chic decor in the room will enhance the pleasant movie time. Beautiful carpets and flooring along with traditional designs add to the beauty of the room. This is in case the home cinema room has been designed for a smaller number of people and more for comfort than for the overall movie watching experience. If one expects a large number of people or wants to create an actual home theatre, then using wall to wall carpeting in the room and placing large single couches in dark colors will give a country style look to the home cinema.
Be it any style, type or fashion, a home cinema is the most cozy and chic room of the house. With wonderful movies and shows playing, this room is a pleasure to have with its uniqueness in itself. For the diehard movie fan, this is a must have in their house.