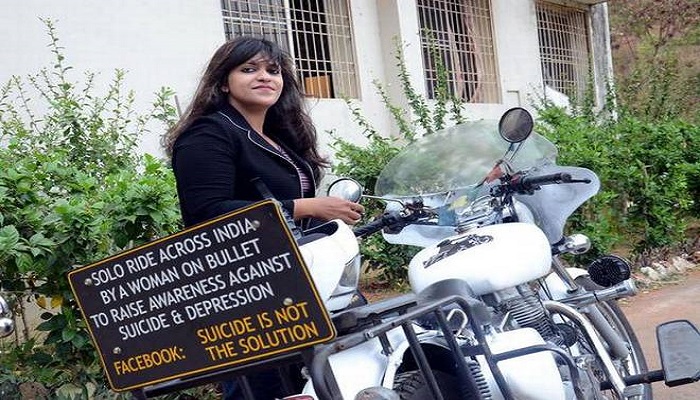 Sana Iqbal, cross-country motorist dies a tragic death; her hasty death wish coming true at an untimely period.
It is truly a sad day for bikers across India. Sana Iqbal, a 30-year-old cross country woman biker and counselor died in a car accident at Narsingi, Gandipet in Hyderabad on Tuesday, October 24.
An avid biker born in a liberal Muslim family, she was raised with values which emphasized on humanity and purity of heart.
At 27, Sana was suffering from depression. She was unable to handle the extreme ups and downs that she had been experiencing for the five years prior.She went on her first solo ride to Gujarat in the hopes of dying under the wheels of some truck or ram into a divider or fall off a cliff.However, instead of finding death, she found peace and a reason to live for, with the help of her trusty Bullet Electra 350 C.
Sana Iqbal took an unyielding decision to fight depression, not only in her but also in others. She undertook a solo expedition to raise awareness about suicide and depression. She believed that 'suicide is not the solution' and drove across the 29 states and seven Union territories, giving lectures to students about depression and ways to counter them.
However, in the early morning of October 24, 2017, Sana and her husband met with an accident that took the life of the motorist councilor. Her husband, Nadeem, who allegedly drove the car, survived the accident, and had undergone treatment.
Sana Iqbal's death has left thousands who were acquainted with her grief ridden. Most of her fans are those whose life she has changed by her motivational speeches, which she conducted at various colleges across India.