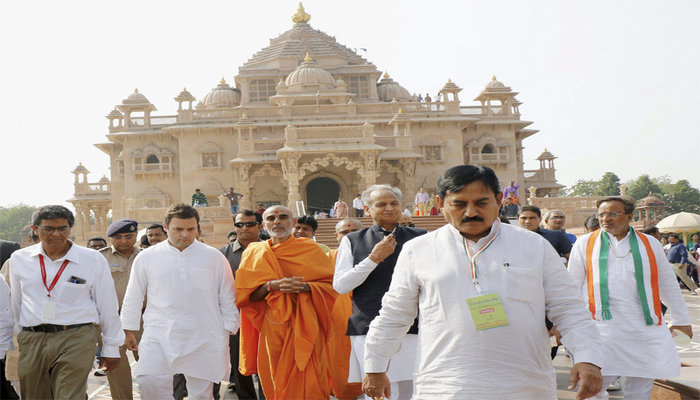 Rahul Gandhi temple visits have riled up the opposition and are jeered at.  His temple visits were seen as a card by the BJP.
Continuing his temple run in poll-bound Gujarat, Congress vice-president Rahul Gandhi revealed that he is a devout disciple of Lord Shiva. After offering prayers at Vir Meghmaya temple in Patan, Mr. Gandhi said, "Main Shiv ka bhakt hoon, sachaai mein believe karta hoon. BJP jo bhi bole, main apni sachaai mein believe karta hu," (I am a devotee of Shiva and I believe in truth. Whatever BJP says, I believe in my truth).
The Congress Vice-President visited Vir Meghmaya temple in Patan on Monday. The Gandhi scion visited two temples in the state – Ambaji temple and Akshardham temple on Saturday.
Meanwhile, a war of words has erupted between the BJP and the Congress, with the ruling party criticising Rahul's move, saying the Congress vice president is visiting Hindu temples just ahead of elections to get votes.
"We are not against his temple visits. We wish that everybody goes to temples and follows our tradition," state BJP in-charge Bhupender Yadav was quoted as saying by news agency Press Trust of India. "But I want to ask… he (Gandhi) lives in Delhi and there are many temples there. Has he ever gone to any temple in Delhi? Has he visited Delhi's Akshardham temple?"
Gandhi had started his campaign in Gujarat with a visit to the renowned Dwarkadheesh temple in September.
On a three-day visit to north Gujarat, the Congress Vice President has been campaigning in the region since Saturday, after completing similar sojourns in west Gujarat, central Gujarat, and south Gujarat.
The state goes to polls next month on December 9 and 14. Gandhi, who is visiting north Gujarat, the BJP bastion over the years, is on a three-day visit to the state.
Rahul Gandhi on Sunday asserted that his party will sweep the Gujarat state polls in December, as a "tsunami is coming and the (ruling) BJP is scared of it", and exhorted his party not to speak low of the office of Prime Minister even while criticising the government.
Gandhi, who had said on Saturday that his party was still not happy with the new GST relief and wanted it to be capped at 18%, asserted again that he would do his best as the Opposition against the "Gabbar Singh Tax" and that he would remind everyone how the note ban "helped thieves turn black money into white".
The Congress' Gujarat campaign has tried to project Mr. Gandhi as a "simple person" who is connected with and can relate to people at the grassroots. The entire Navsarjan Yatra showed photographs of Mr. Gandhi eating meals at popular restaurants, having tea and local snacks at roadside dhabas.
The Congress, meanwhile, has already short-listed the names 70 candidates for the first phase of Assembly elections.