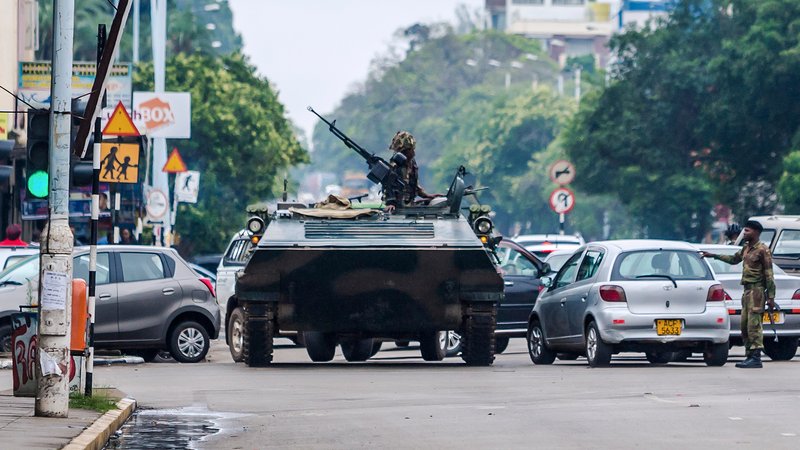 Soldiers had earlier taken over the headquarters of the state broadcaster, compounding speculation of a military coup against Mr. Mugabe.
The events came less than 24 hours after military chief General Constantino Chiwenga threatened to intervene to end a government purge in the ruling party.
• Military says it is keeping Mr. Mugabe safe while rounding up "criminals"
• Reports that Mr. Mugabe's wife Grace has fled to neighboring Namibia
• UN chief, world leaders call for fundamental rights to be respected
The Zimbabwean military has seized control of the capital Harare and state media and has President Robert Mugabe confined to his home.
In a televised statement, Zimbabwe's army denied it was mounting a military takeover, insisting that Mr. Mugabe and his family were safe.
South Africa's President Jacob Zuma said he spoke to Mr. Mugabe, who told him that he was confined to his home but was fine, the South African presidency said in a statement.
The presidency added that Mr. Zuma, in his capacity as chair of the Southern African Development Community, was sending special envoys to Zimbabwe to meet with Mr. Mugabe and the Zimbabwean Defence Force.
The security of the 93-year-old President and his wife "is guaranteed", the army said.
"We are only targeting criminals around [Mugabe] who are committing crimes that are causing social and economic suffering in the country in order to bring them to justice."
The statement broadcast by the state-run Zimbabwe Broadcasting Corporation came after a night of unrest, during which armored vehicles took to the streets and explosions were heard in the capital Harare.
Australians in Zimbabwe are advised to reconsider their need to travel to Harare, remain indoors and be aware of their surroundings.
They should also avoid large gatherings or protests, and monitor the media and other information sources.
Ms. Mugabe had long-developed a strong following in the powerful youth wing of the ruling party.
But her rise has brought her into conflict with the independence-era war veterans, who once enjoyed a privileged role in the ruling party under Mr. Mugabe, but who have increasingly been banished from senior government and party roles in recent years.
The rising political tension in the southern African country comes at a time when it is struggling to pay for imports due to a dollar crunch, which has also caused acute cash shortages.
Martin Rupiya, an expert on Zimbabwe military affairs, said the army appeared to be moving to put the squeeze on Mr. Mugabe.