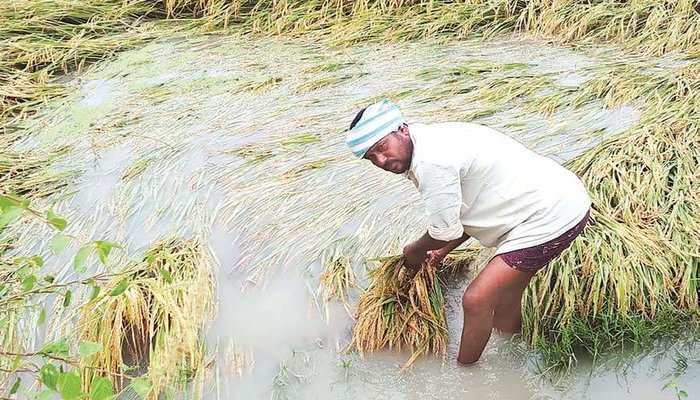 For farmers, water is an important element. Without water crops and plants do not grow. But what if that same essential element causes loss to the farmers?
The heavy rains caused due to low pressure in Tekkali revenue division (Srikakulam district of the Indian state of Andhra Pradesh) caused heavy damage to paddy crop in mandals in the district. Heavy rainfall recorded in Kanchili, Itchapuram, Mandasa, Sompeta, Kaviti, Vajrapukotturu, Kotabommali, Santhabommali, Palasa, Tekkali and Nandigama mandals due to low pressure.
As a result, paddy crop which is at harvesting stage damaged heavily than other crops. Due to strong gales, 113 sheep died at Marripadu, Saradapuram and U Meliaputti villages in Vajrapukotturu mandal. The sheep belong to Peethala Janaki Rao, Peethala Kurma Rao, Vankala Sanjiva Rao and Vankala Sriramulu.
The grazers appealed to officials concerned to compensate the loss by sanctioning financial aid from the government. Paddy crop inundated under rainwater in an extent of 50,000 acres and fell on fields in an extent of 37,000 acres due to rain and winds in Tekkali division mandals. Agriculture department officials collected details over the damage of paddy crop tentatively from the mandals till Thursday evening.
"We received details over crop loss approximately and will send a report to the government," Joint Director for Agriculture G Rama Rao told The Hans India. "At this juncture, we cannot estimate accurate loss, but yield percentage would be affected some extent in inundated areas," he clarified. "We will verify fields with agriculture scientists soon based on government orders," he said.