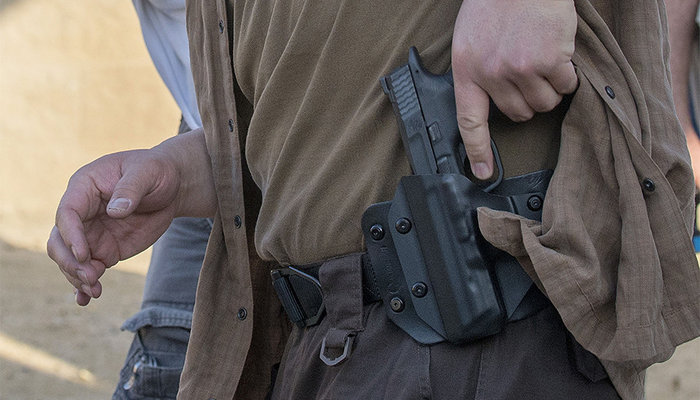 To possession of arms, of any kinds need a permit. And even if one does have the permit, there are certain rules and regulations to be followed.
Authorities have arrested a Southwest Airlines pilot after a loaded 9mm pistol was found in his carry-on luggage before he boarded his aircraft at St Louis' Lambert Airport.
The Transportation Security Administration said in a statement that local law enforcement was alerted around 4:45 a.m.  (Thursday NZ Time) and took possession of the 9 mm Smith & Wesson M&P Shield that was loaded with seven rounds of ammunition.
The 51-year-old pilot, whose name was not released, was arrested on suspicion of unlawful use of a weapon. Officials at St. Louis Lambert International Airport said charges were pending through St. Louis County.
A spokesman in the prosecutor's office said no criminal charges had been filed by early Wednesday afternoon. Individuals who bring firearms to an airport checkpoint can face civil penalties of up to $12,000, the TSA said.
Southwest Airlines spokeswoman Melissa Ford said the pilot was scheduled to work Flight 1106 to Las Vegas as the first officer or co-pilot. The flight was delayed 45 minutes.
Southwest said it was working with authorities to gather more information. The man's union, the Southwest Airlines Pilots Association, declined to comment.
After terrorists with knives commandeered four airliners in the 9/11 attacks, Congress let pilots carry loaded guns in the cockpit if they went through training overseen by TSA. Airport officials said the Southwest pilot did not have any type of authorization to carry a gun on Wednesday's flight and didn't have a conceal and carry permit.
TSA spokesman Mark Howell told The St. Louis Post-Dispatch that it was unclear why the pilot had the gun.
Whether the person caught with a gun at a checkpoint is an airport employee or a passenger, "99.99 percent of the time they say, 'Oops, I forgot it was in my bag,'" Howell said.
Passengers with guns in carry-on bags are frequently stopped at airport security checkpoints. Last year, the TSA confiscated a record 3,391 firearms, 83 percent of which were loaded. The TSA said the firearm the pilot had is the 46th that its officers have discovered this year in St. Louis. A total of 31 were found there last year.
The pilot was arrested on suspicion of unlawful use of a weapon.