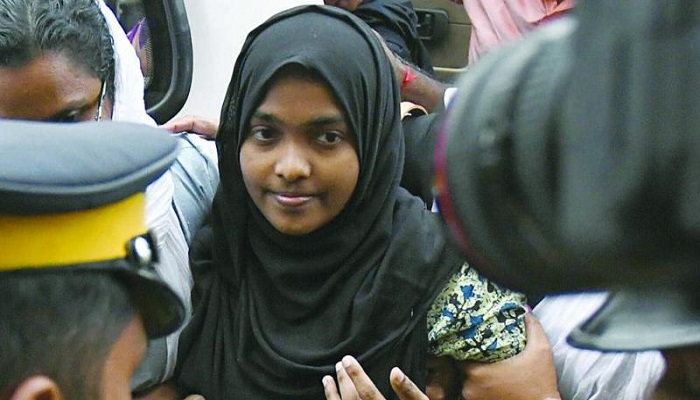 Kerala woman Hadiya, who will depose before the Supreme Court on November 27 in an alleged case of "love jihad", said on Saturday that nobody forced her to convert to Islam and that she wanted to be with her husband.
"I am a Muslim. I want to go with my husband. Nobody forced me to convert," shouted Hadiya as she was whisked away by her parents and security personnel to board a flight to Delhi amid tight security.
Hadiya and her parents are likely to stay at the Kerala House in New Delhi, sources told PTI. (Also Read – 'Love jihad': Sheffin claims attempts made to reconvert Hadiya to Hinduism)
Hadiya, originally a Hindu, converted to Islam and married a Muslim man Shafin Jahan.
The National Investigation Agency (NIA), which is probing the case has alleged that Hadiya was indoctrinated and she may be incapable of giving free consent to her marriage.
Represented by Additional Solicitor General Maninder Singh, the NIA had said there was a well-oiled machinery working in Kerala that was indoctrinating and radicalising society in the state.
As many as 89 cases of similar nature have been reported from the southern state, the ASG had said.
It was alleged that Hadiya was recruited by the Islamic State's mission in Syria and Shafin Jahan was only a stooge.
Advocate Shyam Divan, representing Hadiya's father KM Ashokan, claimed that Shafin Jahan was radicalised and several organisations like the Popular Front of India were involved in the radicalisation of society.
Senior advocate Kapil Sibal, counsel for Shafin Jahan, had opposed the NIA's submission and that of the woman's father.
A Supreme Court bench, comprising Chief Justice Dipak Misra and Justices A M Khanwilkar and DY Chandrachud, had asked Hadiya's father's advocate to ensure she is produced before them to ascertain whether she had married of her own free will.
On October 7, the Kerala government told the Supreme Court that its police conducted a "thorough investigation" into Hadiya's conversion and subsequent marriage to Shafin Jahan and did not find material warranting the transfer of probe to the NIA. 
Shafin Jahan had on September 20 approached the Supreme Court seeking a recall of its August 16 order, directing the NIA to investigate the controversial case of Hadiya's alleged conversion and marriage.
He had moved the Supreme Court after the Kerala high court annulled his marriage, saying it was an insult to the independence of women in the country.