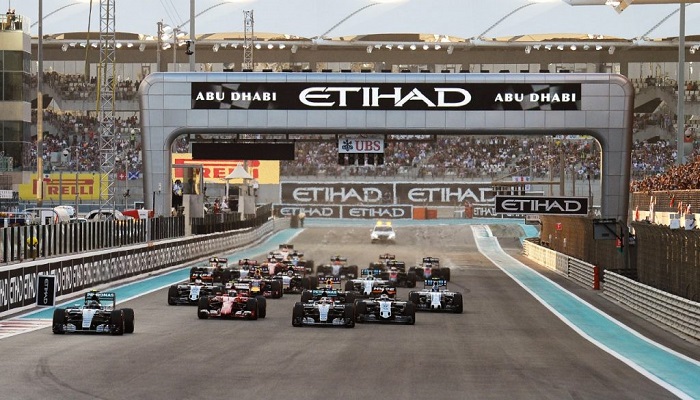 We all know about the famous Formula 1 car racing sports, some know more than others. But did you know this about its recent winner?
Kung Fu legend Bruce Lee once said that "mistakes are always forgivable if one has the courage to admit them".
On Sunday, Mercedes driver Valtteri Bottas proved he had learned from a past mistake in Sao Paulo as he stood on the podium ahead of teammate Lewis Hamilton and Ferrari's Sebastian Vettel at the season-ending Etihad Airways Abu Dhabi Formula One Grand Prix.
However, the 28-year-old Finn — who had to win the race and then wait with the hope that Vettel would finish ninth or lower — could not deny the Ferrari ace from Germany the runner-up position in the world Drivers' Championship behind Hamilton.
Bottas' win gave him a total of 305 points, while Vettel cemented the second spot in the overall standings with 317 points even as Mercedes' four-time champion Hamilton remained out of reach at the top with 363.
Pipped during the Brazilian Grand Prix two weeks ago, Bottas knew that it was all about who would get the best start. With Hamilton in the second spot on the grid, pole-sitter Bottas was off clean and never looked back as he registered only his third career win from 97 starts — all three successes coming in 2017 following earlier triumphs in Russia and Austria.
"I am so very, very happy. If I don't show any emotions doesn't mean I don't have any. It was a straight fight and this one was a very, very important win for me," Bottas told the packed crowd.
As the two Mercedes stormed out from the grid in unison, Vettel and Red Bull driver Daniel Ricciardo kept chase of the leaders. And despite Haas Team's Kevin Magnussen spinning to continue with no scare the entourage progressed as per the grid.
One-third into the 55-lap race, the positions at the top stayed unchanged with Bottas' lead from teammate Hamilton increasing to 2.421 seconds, while Vettel, Ricciardo, Raikkonen and Max Verstappen occupying the next four spots. With 17 of the drivers opting for a tire change, the top three continued on the same compounds and no signs of relenting.
Vettel was first to head to the pits on the 21st lap even as Ricciardo guided his car onto the lawn at turn five while announcing a "hydraulics problem" via radio. At somewhere the same time Bottas pitted handing over the lead to teammate Hamilton, who eventually came into the pits on the 25th lap.
Immediately after he rejoined the pack, Hamilton started gaining on Bottas cutting down the lead to a mere 1.096 seconds with the next two laps. From then on it turned out to be a cat-and-mouse game between the two Mercedes men, and even though Hamilton had the fastest lap of 1:41.734 that was bettered to 1:40.651 during the evening, he could only marvel at his teammate's third success this season.
"I really gave it all I had today, but Valtteri did an amazing job. And given the fact that it is very difficult to overtake here I let it go coming towards the end of the race," Hamilton complimented.
With the final five laps remaining, Hamilton continued gaining on his teammate who resolutely held out even as the two Ferraris of Vettel and Raikkonen gamely pursued them more than 20 seconds and 38 seconds behind. Knowing that he should not risk anything after chasing his teammate down the entire 55 laps, barring the pit stops, Hamilton eased off finishing 4.826 seconds behind in second, while Vettel was third a further 17.818 seconds away.
"We had a good start and then I had nowhere to go on the fifth lap and the car wouldn't go any faster. In the second half, I got into the rhythm but we just couldn't match these two guys in front," Vettel admitted.
"As much as I hate to say it, Lewis [Hamilton] was the better man this season and he deserves the world title. But we will do a lot of work during the winter and be back for 2018," he quickly added.
Verstappen ensured a few more points to Red Bull with a fifth followed by Renault Sport's Nico Hulkenberg in sixth leaving the Sahara Force India pair of Sergio Perez and Esteban Ocon in seventh and eighth.
Exactly 12 months back, Hamilton had won the race, but his teammate Nico Rosberg who came in second got enough points to finish five points clear and pocket his only world drivers' crown and become the 33rd World Champion. Vettel — also a three-time winner here — had ended in third, while Red Bull Racing's Verstappen had stepped in fourth.