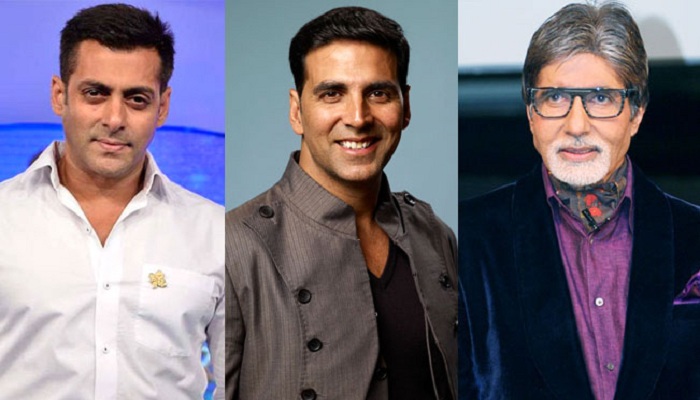 Bollywood actors who started their career with a flop debut
Everybody who wants to debut in Bollywood wants to work in a movie that will be a superhit but superhit movies are rare and not everyone gets a chance to work in those movies, especially not everyone gets to debut in a superhit movie. Many Bollywood actors and actresses have made debut in flop movies but later turned out to be superstars.
Sonam Kapoor
Sonam Kapoor debuted in Bollywood with film Sawaariya as a dreamy start for her career but the film didn't do well at Box Office.
Shraddha Kapoor
Shraddha Kapoor debuted in film industry having a stinted role in Amitabh Bachchan starrer, Teen Patti. The film didn't score well and Shraddha's presence got missed in the film.
Salman Khan
One has never thought of this but yes, Salman Khan also had a flop start in his career. Having a supporting role in Biwi Ho To Aisi, Salman failed in his chance of scoring a hit in Bollywood with his debut.
Saif Ali Khan
Bollywood Nawab, Saif Ali Khan never had a smooth start in Bollywood. His debut film, Parampara was counted as a massive flop at Box Office.
Rani Mukerji
Rani Mukherjee is one the best female actresses of Bollywood but unfortunately, she had a bad start in her career. Debuting in Bollywood in 1996 with film Raja Ki Aayegi Baaraat, Rani Mukherjee almost failed to grab the audience attention.
Madhuri Dixit
Dhak Dhak Girl of Bollywood, Madhuri Dixit, started her career with a massive flop, Abodh in 1984. Although, the story line failed to score a hit but the charisma of Madhuri Dixit was never lost and she soon emerged out as a Bollywood biggie.
Katrina Kaif

Bollywood's heartthrob Katrina Kaif's journey of existence in the industry was never easy. She debuted in Bollywood with the film Boom in 2003 and the film flopped at Box Office.
Kareena Kapoor
We all love Kareena Kapoor for her fashion statement and attitude. She has been a great performer on-screen. Kareena is one of the top stars in Bollywood but yes, she also had a flop and bumpy start in her career. She debuted in Bollywood with film Refugee in 2000 but the film collectively failed at Box Office.
Emraan Hashmi
Emraan Hashmi never knew that he is going to be named as 'Kissing King of Bollywood' but see how things happen! After emerging in Bollywood in year 2003 with film Footpath, he totally failed to charm the flock but soon became a sensation in Bollywood with his extra skills of kissing.
Amitabh Bachchan
Shehenshah of Bollywood, Amitabh Bachchan started out in the industry with Saat Hindustani in the year 1969 but the film failed to give him a hit debut.
Akshaye Khanna
Akshaye Khanna is a charismatic actor. He debuted in Bollywood in 1997 with Himalay Putra but the film failed to score a hit and ultimately, got counted as flop.
Akshay Kumar
Do you know, Khiladi Kumar of Bollywood was never so famous as he is today. He started his career with film Saugandh in 1991 that flopped. The film failed to charm the audiences and got down on Box Office.
Aishwarya Rai
Beauty queen Aishwarya Rai's debut film, Aur Pyar Hogaya flopped to score a hit and gave her the bumpy ride as a debut actress.
Aditya Roy Kapoor
The handsome hunk of Bollywood embarked in industry with London Dreams in 2009. Although, his first film didn't work well for him but after Aashiqui 2, the actor rose to fame and toady, he is almost unbeatable in his career graph.
Kajol
The gorgeous diva had a flop start in Bollywood, unbelievable! The charismatic beauty, Kajol debut in Bollywood and counted a flop in year 1993 with film Bekhudi.