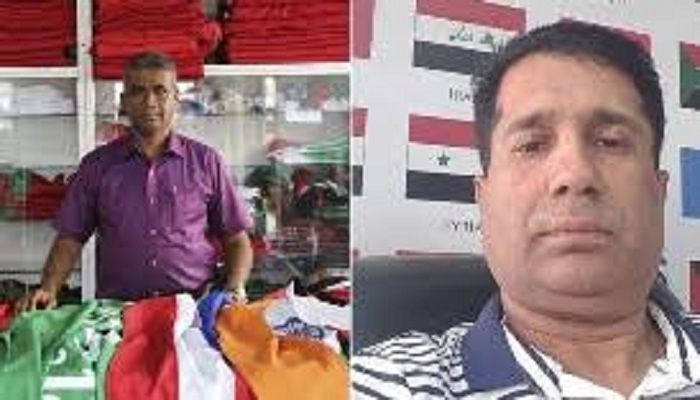 Kamarudheen from Kerala and Mohammed Nadeem from Sialkot have been running Qamar Al Deen since 2004.Their partnership is based on the most important factor of trust, said Kamarudheen who came to the UAE in December of 1985.
A strange partnership of an Indian and a Pakistani have bonded in the UAE Capital to successfully run a business of selling national flags over the years. 
"I started as a flag-maker and even today after 32 years I am managing the same business. I joined Qayyum Tailoring at the then Central Market. It was then the largest tailoring shop, me and Nadeem worked there. All the UAE flags for overseas missions were done from there. Qayyum Tailoring was the first shop to supply the UAE's flag after unification," he said.
However, Qayyum Tailoring ran into a financial tangle and the duo moved on to set up their own shop in 2004.
"We are equal partners. Nadeem has good knowledge about this business," Kamarudheen said about his partner, who is away on a visit to Pakistan.
Today, ministries; government entities; embassies; exhibition centers; hotels; social-cultural associations; educational institutions form the distinguished client list.
"Apart from public and private sector, we supply flags to some 70 embassies in the UAE, including Afghanistan, Austria, Libya, Latvia, Luxembourg, Italy, Indonesia, Morocco, Mozambique, Nigeria, Uruguay, Uganda, and Sudan among others," he said flipping through few pages of his register book.
"The tricolour hoisted at the embassy comes from India but we do provide the one placed in the Ambassador's car. We cover almost 80 per cent of educational institutions," he said as a family of six members came to buy UAE flags.
"It's not just companies but general public too come here," he noted.
Kamarudheen said that though their job isn't taken seriously it is a tough task. "We have to work meticulously as one bad job can undo the goodwill earned through years of hard work. We have a team of nine people with six as of now. My son Fawzan will soon join the business," Kamarudheen said adding that the shop makes kandura and uniforms too.
Their task gets tougher when countries keep changing flags but it also means more business.
"Afghanistan changed its flag few years back to expand the centre emblem cover three colours of black, red and green. Libya and Mauritania had made changes. When Abu Dhabi Education Council became Department of Education and Knowledge, we also changed logos on all the flags accordingly," he said.
Today after 32 years in business and with an able partner in Nadeem, the business continues to grow.
"When we started, people used to wonder what we were upto. They would taunt: 'Who can make a living by selling flag?' We have proved that it can be done and with great success too," he added.