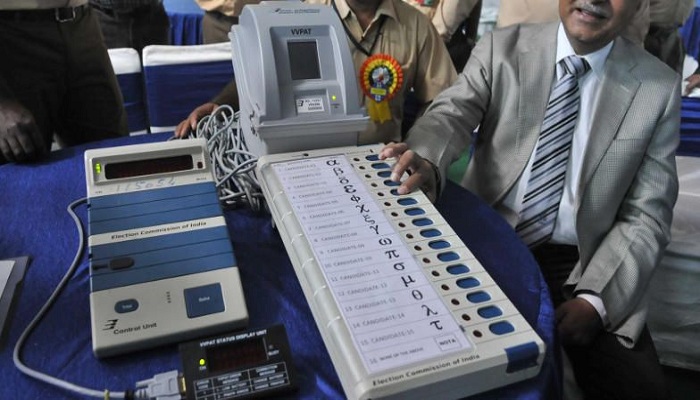 Gujarat Elections : Election Commission announces new decision about vote counting
After UP polls,opposition parties alleged BJP had manipulated EVMs for a landslide victory in mayoral polls in UP.So the Election Commission plans to organize a process to improve the vote counting.
The Election Commission said on Sunday it would conduct random vote-counts on electronic voting machines (EVMs) and slips of voter verifiable paper audit trail (VVPAT) at one polling station in each of Gujarat's 182 assembly constituencies.
"To maintain faith of the people in the EVM/VVPAT system, we have decided to count all the VVPAT vote slips and match them with the (corresponding) EVM control unit vote data at one polling station in each constituency," said chief election commissioner A K Joti.
"Polling booths will be randomly selected through draws made in the presence of all the candidates in a constituency," he added.
Saying the EC intended to do the same in Himachal Pradesh, the CEC added, "Earlier, in the Goa elections, some candidates raised objections and counting of VVPAT slips was done in four polling stations. It matched EVC control unit data 100 per cent."
Responding to videos on social media alleging widespread EVM tampering in the UP civic elections in favour of BJP, he said, "Local government elections are conducted by the concerned state election commissions only. The EC did not conduct elections of local bodies in UP. They used M1 type EVMs while we use M2 and advanced version EVMs."
On a visit to Gujarat, Joti, along with election commissioners, had a two-day discussion with all the district election officers, police officers and top state officials, including the chief secretary and the DGP, and reviewed the preparations for the elections. They also met representatives of political parties and heard their suggestions.
"Political parties demanded the removal of the clause penalising a voter if his/her complaint regarding wrong recording of vote in VVPAT turns out to be incorrect. The commission will decide this later," Joti said, "One political party also demanded the installation of jammers outside booths and not allowing mobile phones. We will examines their suggestions and take a call accordingly."