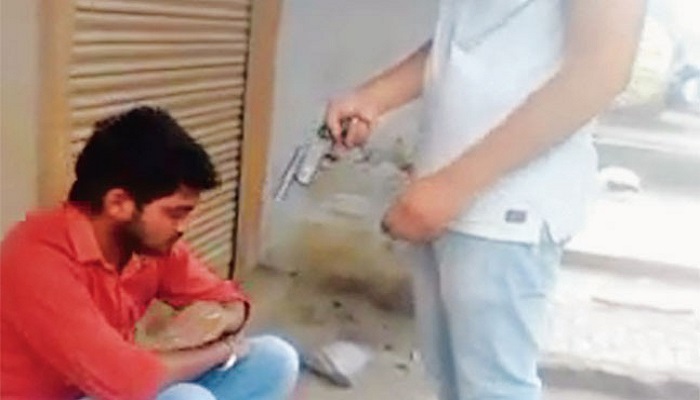 An old video, that had gone viral only on Sunday, has brought forth a shocking incident.
Footage shows a youth in Uttar Pradesh being beaten and forced to beg for life, while he is held at gunpoint. Surprisingly, the state police are clueless about the incident and when approached by Mail Today, an officer, besides expressing gratitude assured that strict action would be taken against the culprits.
According to the information available with Mail Today, the incident took place in the Guarana market of Badaut locality of Baghpat district – where the victim Nitish was mercilessly beaten at gunpoint. According to reports, Nitish is the son of a Delhi Police inspector and is a school dropout.
The other youth, Ankit, who is the accused in this case, is a school dropout as well and is a local 'bhai'. According to inputs available, while Ankit runs his own gang, Nitish is a supporter of a rival one.
Both the gangs have reportedly got engaged in many brawls with each other earlier. On the day of the incident, Ankit found Nitish roaming around alone on his bike in the market. He forced the latter to get off his bike and insulted him in public by making him hold his ears and do sit-ups.
Then the accused ended up thrashing Nitish. Ankit even started kicking Nitish on his private parts. Following this, the accused took out a country-made pistol and then having loaded it, forced it into Nitish's mouth.
Nitish kept begging for his life and after an episode of thrashing and of life threats, Ankit let him go. Before getting released, however, Nitish had to promise Ankit that he would consider the latter as his boss and become a member of his gang. The police were totally unaware of the entire incident till Sunday. After it came to light, SP(Baghpat) told Mail Today, "We came to know about the incident from you and would ensure that strict action will be taken against those found guilty."