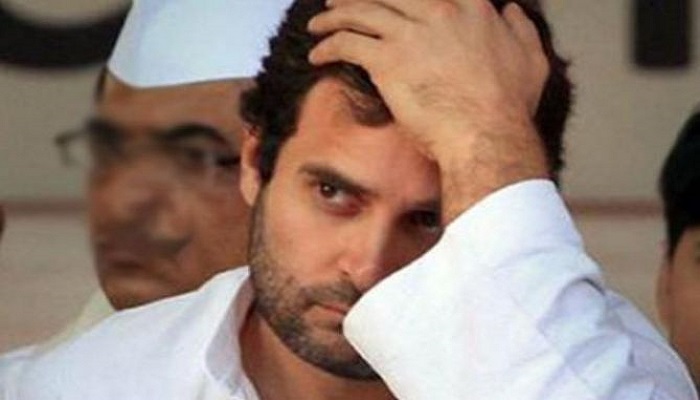 Taking a swipe at critics of his blusterous Bullet Train project, Prime Minister Narendra Modi had asked them to go ride a bullock cart. His principal opposition in this Gujarat Assembly election campaign, Rahul Gandhi, had already done that. But then the campaign is a fun time as well.
So Congress party's almost President Rahul Gandhi decided to take a ride on a camel cart. Yes, camels are aplenty in the state of Gujarat because large parts of the state are desert-like. Camels have been a popular means of transport in large parts of Gujarat.
Rahul Gandhi who was in Delhi for a couple of days to file his nomination papers for Congress president election will resume his campaign with a camel cart ride. He is coming to Anjar in Bhuj and a colorful camel cart is waiting for him. Camel and the cart were decked up in traditional Kutch style.
It was in Khambaliya, Dwarka, where Rahul Gandhi had mounted on top of a bullock cart while reaching a farmers' rally.
The Amethi MP is on a three-day tour of Gujarat. After addressing a rally in Anjar, he will head to Morbi and Surendranagar district to do the campaigning. That is the heartland of Patel land. Patels have found a new leader in a 23-year-old Patel lad Hardik who is drawing huge crowds wherever he goes. Hardik has announced his support to Rahul Gandhi-led Congress campaign though they do not share a stage.
All the three districts finding mention in this round of Rahul tour will go on the poll on December 9 when the first phase takes place. The second phase of voting takes place on December 14. The results will be announced on December 18 and we will know whether the camel ride takes him past the half-way mark.
The Congress has been out of power in Gujarat for over two decades but recent reports suggest a revival which is being credited to Rahul Gandhi's regular visits and the uncanny caste combination of Dalits, OBCs and the dominant Patels who aren't particularly loved by the first two caste groups.