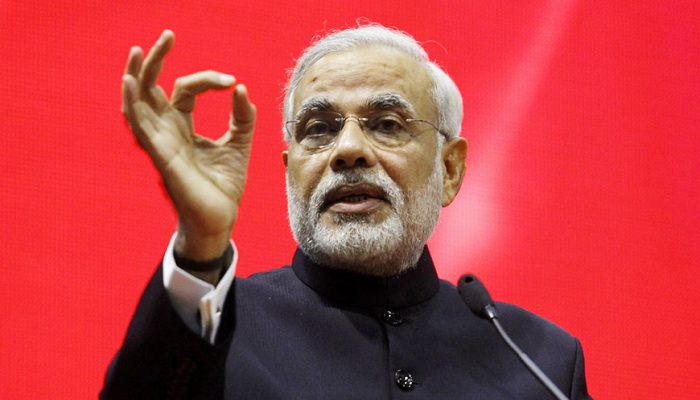 Prime Minister Modi makes congress silent with these two questions
The PM Modi , at a rally at Bhabhar in Banaskantha, attacked Congress for Kapil Sibal's submission in the Supreme Court seeking the postponement of hearings on the Ram Mandir issue till the 2019 Lok Sabha elections.
Modi also asked Sibal to clarify whether he was an advocate of the Ram temple or Babri masjid.
Prime Minister Narendra Modi asked Congress to choose between Ram mandir and Babri masjid and also explain why the party was linking hearings in the Ram Janmabhoomi case with the 2019 Lok Sabha polls.
"They (Congress) are not answering why they are linking the Ram Mandir hearing with the Lok Sabha polls. Why are you obstructing the disposal of the Ayodhya case? They (Congress) are not replying but he (Kapil Sibal) is saying he is not the advocate of the Sunni Waqf Board. Then clarify whether you (Kapil Sibal) are the advocate of Ram Temple or Babri Masjid. If you can't speak the truth, ask your new leader (Rahul Gandhi) to speak on this," he said.
He was in turns emotional and combative as he asked Gujarat voters to avenge the "plethora of abuses" heaped on him by the opposition with their votes. Modi referred to suspended Congr ess member Mani Shankar Aiyar's remark – he had called Modi a "neech kism ka admi" – and exhorted the electorate to "punish" Congress by voting heavily in favour of BJP. Citing a three-year-old video, Modi also alleged Aiyar had met Pakistanis to hatch a plot to "get Modi removed from the way" .
"You tell me if being born in a poor family makes one 'neech'? Does birth in a backward caste make one neech? Does being a Gujarati mean being neech? Just tell me what I have done to make the country feel humiliated," the PM had said at a public meeting earlier in the day at Nikol.
Nikol was among the centres of Patidar violence in Ahmedabad during the quota stir. "Mani Shankar Aiyar had gone to Pakistan and plotted to remove Modi from the way. What is the meaning of 'elimin ate Modi from the way'?" Modi asked. "You had gone to Pakistan to give a contract to eliminate Modi. I am being protected by Maa Amba." Modi said Congress' abuse for him amounted to insults for all members of backward communities, Gujarat and the civilised society itself.
After listing more than a dozen instances where Congress members had criticised him, Modi said, "I was called a monkey, a mentally retarded person, Ravan, Yamraj, Bhasmasur and even 'napunsak' (impotent). Is this the language used in a democracy? Stop challenging our decency in public life."