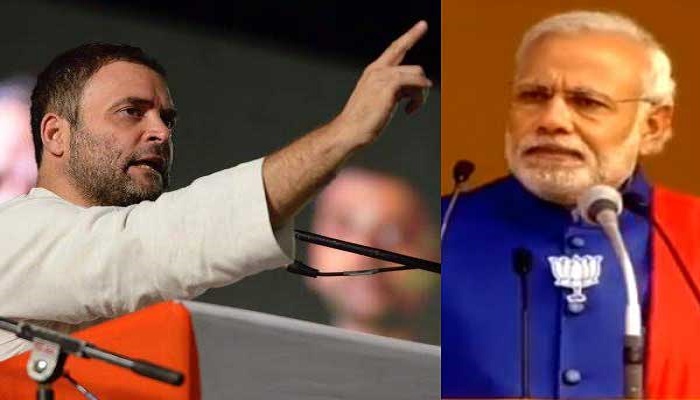 With the Gujarat elections' Phase 1 underway, the competitors have begun their preparations for the Phase 2 with rallies and speeches.
Congress vice-president Rahul Gandhi on Saturday stepped up attack on Prime Minister Narendra Modi asking why there is no mention of development in his speeches during the Gujarat election campaign.
Mr. Gandhi said he did not get an answer to even one of the 10 questions he had asked Mr. Modi on Gujarat's report card, despite the BJP being in power in the state for 22 years, and wondered if governance meant mere speeches.
"'Vikas' (development) is missing from the Prime Minister's speeches this time. What is the reason," Gandhi asked on the day of the first phase of polling in Gujarat. 
"BJP has its government in Gujarat for 22 years. I will only ask, what is the reason development is missing in the prime minister's speeches.
"I asked 10 questions on Gujarat's report card but no answers came. No manifesto till the campaign for the first phase of polling ended. So, 'ab bhashan hi shasan hai' (does governance mean mere speeches now)," he asked on Twitter.
Taking on Mr. Modi, the Congress leaders have started "a question a day" series on social networking site with the tagline "22 saal ka hisab, Gujarat maange jawab" (22 years of account, Gujarat demands answers).
Gandhi's 11th question comes in the wake of the party's strategy to pose one question to Modi every day. 
The Congress is seeking to wrest power from the BJP and Mr. Gandhi has spearheaded the attack, often targeting the prime minister over the claims of development and questioning the 'Gujarat model'
As polling began on Saturday for the first phase of Gujarat elections, the Congress vice-president welcomed the first-time youth voters of the state and urged all to help make the festival of democracy a success.
"Participation of voters is the soul of democracy. Welcome, all the first-time youth voters of Gujarat. Appeal to all voters to vote to help make a success of this festival of democracy," he said on Twitter.
The first phase of polling in the two-phase Gujarat assembly election is underway on Saturday. Polling, which began at 8 a.m., will end at 5 p.m. 
The second phase of the assembly polls is on December 14.
The results will be out on December 18.