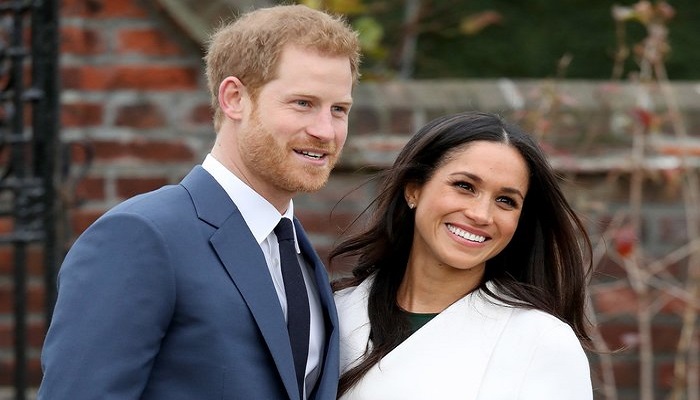 The royal couple Prince Harry and fiancee Meghan Markle have made an official announcement to the public.
Britain's Prince Harry and American actress Meghan Markle will marry on May 19, 2018, Kensington Palace announced Friday.
The pair, who will get married in St. George's Chapel at Windsor Castle, announced their engagement in November.
On that occasion, Harry told reporters that he knew Markle was "the one" from "the very first time we met."
The couple attended their first royal event together in the city of Nottingham earlier this month, where they were met by well-wishers.
On Wednesday it was revealed that they will spend their first Christmas as an engaged couple with Queen Elizabeth and other members of Britain's royal family at the Sandringham royal estate
The couple will live in Nottingham Cottage on the grounds of London's Kensington Palace, the official residence of the Duke and Duchess of Cambridge.
The couple opened up for the first time about their relationship in an interview last month when Harry told the BBC that his late mother, Princess Diana, would have been "over the moon" about the pair's engagement.
Harry and Markle first met for a drink in July 2016 on a blind date, brokered by a mutual friend, whose name they would not reveal, but "it was definitely a setup," Markle said in the interview.
A second date was followed by a camping trip to Botswana. "Then we were really by ourselves, which was crucial to me," explained Harry.
"We were able to really have so much time just to connect," added Markle, "and we never went longer than two weeks without seeing each other, even though we were obviously doing a long-distance relationship. We made it work."
Harry proposed on a "cozy night" in early November at Nottingham Cottage, Markle said.
"It was so sweet and natural and very romantic. He got down on one knee," she said. "As a matter of fact, I could barely let you finish proposing. I said, 'Can I say yes now?'"
Harry designed the engagement ring himself. It features a diamond from Botswana accompanied by two smaller diamonds from Diana's jewelry collection, which the Prince said he wanted to include "to make sure she's with us on this crazy journey together."
Ivanka Trump sent two well-wishing tweets on Friday congratulating Prince Harry and Meghan Markle for their upcoming wedding on May 19.
In the process, she gave many Twitter users a chance to engage in what they do best: get good and snarky.
1:2 Wishing Meghan and Prince Harry a lifetime of love, laughter and happiness together. https://t.co/fgjJhCfYnr https://t.co/8YP3Nzef5I

— Ivanka Trump (@IvankaTrump) December 15, 2017
2:2 I have no doubt that this couple will do extraordinary things, both individually and collectively. Congratulations!

— Ivanka Trump (@IvankaTrump) December 15, 2017
Trump's tweets may have been truly sincere, but many people thought she had a motive behind her posts.
Aww how sweet but I don't think y'all are gonna get invited ?

— Mike MacCormick (@DFWsMrFantastic) December 15, 2017
Dear Kremlin Barbie: still not getting an invite.

— Karen Segall (@karensegall) December 15, 2017
They don't want your family at their wedding… #Sad

— Top Rope Travis ?? (@TopRopeTravis) December 15, 2017
So desperate.

— ?????Vanessa ????? (@vanessahealy21) December 15, 2017
Other people pointed out that Harry already has a close friendship with another American political family.
— penelope christensen (@ploinreno) December 15, 2017
One person noted that it may not be anything personal, just simply that Harry's family has little in common with the Trumps.
Yes. Except they already have. It's the trump kids who haven't. pic.twitter.com/2DeLMCBFJ4

— Rachel (@RachMiata) December 15, 2017
To be honest, Harry may have antipathy for the Trumps that goes back to 2000, when Donald Trump told Howard Stern in a radio interview that he would have slept with Princess Diana as long as she had an HIV test first.
Markle has historically had more of a mixed reaction toward the first family. In 2014, she wrote on her blog The Tig that Ivanka Trump was "staggeringly beautiful, no question, but so incredibly savvy and intelligent."
However, during a May 2016 appearance on Comedy Central's "The Nightly Show," Markle said she thought Donald Trump was misogynistic and that she might consider permanently moving to Canada should he be elected.
A spokesperson for the royal family declined to comment to People on whether any Trumps would get a wedding invite.
If they don't, it might not be entirely personal. Newsweek points out that security concerns were a reason Obamas weren't invited to Prince William and Kate Middleton's 2011 ceremony.
However, considering the former president's friendship with Harry, perhaps he'll be on the invitation list for the May wedding. 
Prince Harry hosted former US President @BarackObama at Kensington Palace today. pic.twitter.com/9SWfSRY4FH

— Kensington Palace (@KensingtonRoyal) May 27, 2017
If Ivanka really wants to get into the wedding, one person suggested she offer to be an entertainer.
Maybe they'll let you perform at the ceremony…https://t.co/R3MfUa0N45

— Doggirl Marabito (@texasdicks) December 15, 2017