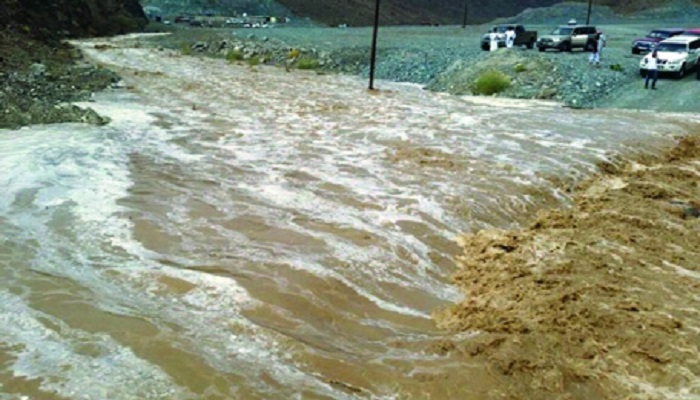 Whereas convective bands of clouds have blanketed the emirate of Ras Al Khaimah, the ongoing heavy showers have led to ponds of rainwater everywhere.
Though up to 82 tankers and pumping machines have been deployed across the emirate to drain accumulated water day and night, the department of public works and services could not help attending to 480 emergency situations.
Eng. Ahmed Al Hammadi, director general of the RAK public works and services department, on Saturday told Khaleej Times that up to 11 trees were uprooted by the strong winds.
"Six breakdowns and landslides, mostly on the road head shoulders at different places, have also been reported and immediately attended to."
The most affected places were Al Dheit and Khuzam areas where 'seas' of rainwater were sucked out, he added.
"Up to 19,965,320 gallons of water were sucked out from the roads of the emirate of Ras Al Khaimah over the last three days, and operations are on."
Indicating Eng. Al Hammadi said they have increased the water tankers to 37 and pumping machines to 34. "More tankers and pumping machines are to be used in collaboration with the RAK police and civil defence department here."
Eng. Al Hammadi said the sucked out rainwater is not wasted but stored in special stations for recycling and reuse in irrigating plants across the emirate.
"It is a simple process to recycle and reroute stored water to the desired area of need. In order to collect rain water for irrigation the system installed is the same, on a small or large scale, as per the requirement."
All parts of the emirate of Ras Al Khaimah saw heavy showers over the last few days, particularly in the norther and southern regions, valleys and mountainous areas. Residents of the areas much exposed to pouring showers and strong winds were requested to be careful, and immediately call (999) in case of emergency.
"All resident are advised to avoid mountainous areas, and the strong currents of the valleys here, while all motorists are requested to reduce speed, be attentive on the road, turn on the light, and observe traffic rules for road users' safety and theirs."