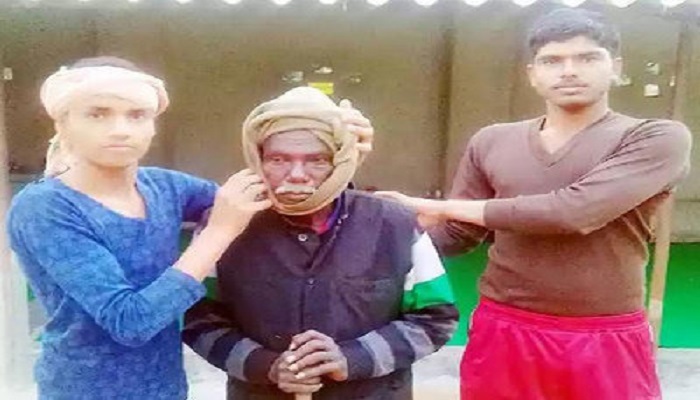 Among the political issues in India here is an interesting story of a man that who changed his appearance as a millionaire from a beggar, Amidst growing political turmoil over Aadhar Card, a shocking news has surfaced from Uttar Pradesh (UP). An old beggar residing in the Raipur town of Rae Bareli district in UP has been found to be in possession of Aadhar Card and Fixed Deposit (FD) papers worth over a crore.
The matter came to light after the poor condition of beggar caught the attention of Swami Bhaskar Swaroop Ji Maharaj of Angroom school. The beggar was then taken into a shelter by Swami.
While bathing the destitute beggar, Swami's helpers were astonished to find an Aadhar Card and FD documents worth Rs 1,06,92,731 inside his clothes.
On further investigations based on details retrieved from beggar's Aadhar Card, it was established that he was a rich businessman hailing from Tamil Nadu.
After getting his correspondence through the documents, Swami informed his family members of his whereabouts. Following which, the beggar's daughter came to Raipur to take her father back with her.
Navbharat Times (NBT) spoke to Swami Bhaskar, who recalled how for the first time on 13 December he saw the old man in his school's compound in search of some food.
After being fed food, the old beggar was given a haircut and made to take bath. While cleaning him, Swami's assistants also recovered a safety deposit key from his clothes.
Swami further disclosed how he was able to identify the beggar as Muttaiah Nadar based on information from Aadhar Card. On further exploration, Swami also managed to unearth the contact details of his family based in Tirunelveli city of Tamil Nadu.
On contacting Nadar's family members, his identity was confirmed, and he was handed over to his daughter Geeta, who flew from Tamil Nadu to take her father back. Before leaving, she thanked Swami and all his workers in the ashram.
While speaking to NBT, Geeta revealed how she lost track of her father 6 months back on a train journey. She claimed her father lost his way and memory probably after coming under the influence of drugs forcefully injected into him. She expressed gratitude towards Swami Bhaskar for taking care of him and reuniting him with his family.
Meanwhile, Swami appealed to police and government officials in Ralpur to be considerate towards beggars and lunatics wandering in the town and inquire about their whereabouts so that they can be reunited with their families.