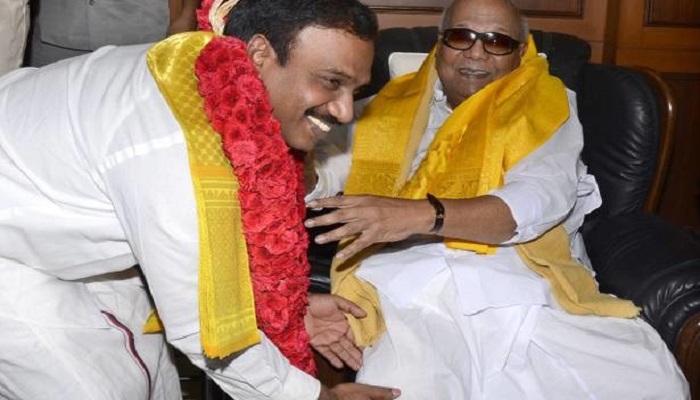 I place the 2G verdict at your feet with gratitude," says former telecom minister A Raja in an emotional letter to DMK chief M Karunanidhi. The letter was released to media on Friday, a day after Raja, Karunanidhi's daughter and Rajya Sabha member Kanimozhi and all others were acquitted by a CBI court in Delhi in the 2G case.
Raja thanked Karunanidhi for his support and said he was waiting "to hear his words." Karunanidhi is being treated for an illness and has slowing started to speak.
"You preserved me in the snow. So I wouldn't dissolve in the spectrum battle. Who will punish those who tainted your 80-year public life? The spectrum attack tainted an ideological movement (the DMK). Spectrum politics gave a handle to those who couldn't shrink your governance," said Raja.
The former minister said he brought about a revolution in the telecom sector. "In 2009 itself, we gave 59 crore mobile connections against the 60-crore target set before 2012. The spectrum cartel was broken to pave way for WhatsApp, Facebook, Twitter revolution. Calling it a crime and being jailed for it will happen only in India. Media, which refused research and showed vulgar interest on the spectrum, wouldn't see the social perspective," he said.
"My firm belief in the rightfulness of my actions as well as my faith in our nation's justice system is validated today. The decision for allocation of spectrum, or radio waves that carry mobile voice signals, were in line with the National Telecom Policy and recommendations of the telecom regulator TRAI," said Raja.
Raja said he had felt vindicated all along even prior to this judgment because the beneficial results of his actions were evident to and being enjoyed by the nation's public (especially the poor).
"I had full faith in the judiciary and had cooperated fully with the trial and did not seek even single day adjournment. I also had the courage and confidence to step into the witness box and give evidence and offer myself for cross-examination by the CBI, which is very unusual in criminal trials in India," he said.
Raja claimed that the judge had repeatedly observed that his evidence was "cogent, credible and consistent with the official records, in contrast with the evidence of the prosecution witnesses whose evidence has been rejected as untrustworthy."
Raja said he had full faith in the judiciary and had cooperated fully with the trial and did not seek even single day adjournment. "The learned judge has held that it is not just a case of the prosecution failing to prove its allegations, but a case where the prosecution case itself was false, which was my submission from the very first day," said Raja.