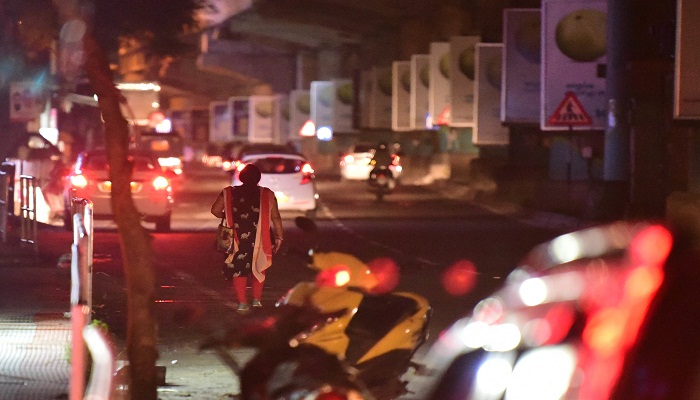 Amrutha Umesh, the Kerala student who had been taken into custody in November for walking alone at night, was pulled up again during the wee hours of Sunday by the same police, and for the same reason.
A group of police personnel on patrol saw Amrutha walking near the High Court Junction in Kochi. Amrutha was in Kochi on Christmas Eve to meet her friends and was on her way to North Railway Station to catch a train to Aluva.
"My friend lives in Ambatutkavu, near Aluva. My friends were waiting for me at Aluva station so that we could go to Ambattukavu together," Amrutha told TNM. According to Amrutha, the police questioned her about where she came from, what she was doing before calling some women police officers.
"When I asked them why they are questioning me, they told me that they were concerned about my safety. I asked them to drop me at the railway station if their concern was my safety, which they agreed to. But after the women police officers arrived, they took me to the Town Women's Police station," she said.
When she asked the police why she was taken to the police station, the police told her that if she wants to be released, someone prominent should call. Meanwhile, she had put up a Facebook status saying that she was in police custody, and had also called up a few of her friends.
"This time, I was allowed to use my phone and the police officers were not rude. Some of them, however, have identified me though," Amrutha said.
Libin Thathapilly, a journalist with the Narada News Portal, had called the Circle Inspector and Police Commissioner by that time. Minutes later, Amrutha was allowed to go.
On November 30, Amrutha was taken into custody in Kaloor, Kochi, while she was walking alone to the Railway Station after visiting her friend Pratheesh Rema. Later, Pratheesh was called to the police station and was kept at the Ernakulam Town Police Station – which is adjacent to Women's Police Station – and was allegedly beaten up. Amrutha's parents had also been informed by the police, who came from Vadakara to take her.
After this, Amrutha and Pratheesh had complained to the Chief Minister, the State Human Rights Commission, and top police officials.
On Thursday night, Pratheesh, also a Narada journalist, was arrested by the Town Police after locals living near him allegedly complained about him for public nuisance. He was also accused of beating up a local resident. Pradesh's friends alleged that this was a retaliation by the police because they had followed up with their complaints.