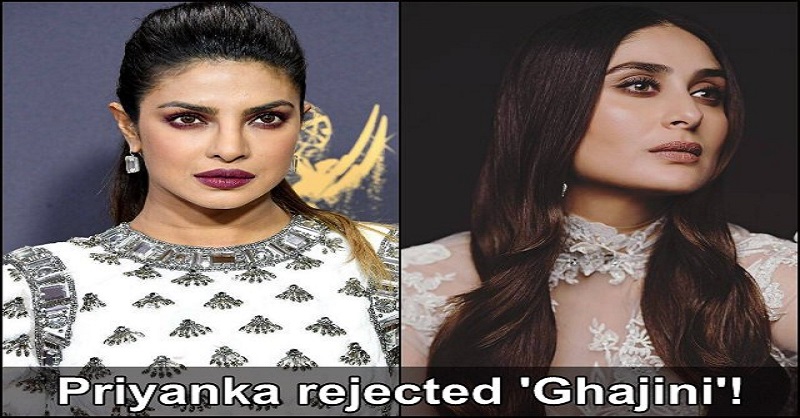 AISHWARYA RAI (RAJA HINDUSTANI)
Starring Mr. Perfectionist Aamir Khan in the lead role of a taxi driver cum tourist guide, 'Raja Hindustani' was the biggest blockbuster film of 1996 in India. It set the box office on fire from the very first day of its release and turned out to be the third most commercially successful Bollywood film of the 1990s. Produced at a budget of Rs. 5.75 crores, the film pulled in a whooping Rs. 76.34 crores worldwide, a collection which was unheard of back in 90s. It is also remembered till date for its melodic compositions. The movie has gathered a huge following over the years and thus has been given the status of an all time blockbuster.
The musical love story stars Karisma Kapoor as the leading lady. Karisma, who played the character of rich and sensitive Aarti Saigal in the movie, received huge compliments for her stunning looks and performance in the film. 'Raja Hindustani' is considered to be the best film of her entire career. It catapulted her to the league of top actresses in the 90s. She received her first Filmfare Award in the Best Actress in a leading role category. But do you know that the role which changes her career completely was first offered to Aishwarya Rai. Yes! Aishwarya was supposed to play Aarti, but she turned down the role because she was not much interested in a career in films at that point of time and was busy with her studies and modeling assignments.
Not just her, but the same role was offered to Juhi Chawla also. Juhi did not accept the offer due to some personal issues with Aamir Khan. It was also reported in the media that Pooja Bhatt was almost ready to sign the film, but on Aamir Khan's request, director Dharmesh Darshan had to look for some other actress as Aamir did not want to work with any actress he had worked with before.
JUHI CHAWLA (DIL TO PAGAL HAI)
Not just Juhi Chawla, but a host of other leading Bollywood actresses of the 90s also turned down the role of Nisha opposite Shah Rukh Khan in the all time blockbuster film 'Dil To Pagal Hai' (1997). The said role was first offered to Manisha Koirala and then to Juhi Chawla, Raveena Tandon, Shilpa Shetty, Urmila Matondkar and Kajol before Karisma Kapoor gave her nod to do it.
Ironically, the decision of playing the second lead in the film worked in Kapoor's favor as she did not just win oodles of praises for her brilliant performance, but also walked away with the National Award for Best Supporting Actress. The film had three actors in it – Shah Rukh Khan, Madhuri Dixit and Karisma Kapoor – and all the three got the Filmfare Awards for their great performances.
The musical romantic film was helmed by veteran filmmaker Yash Chopra. Though SRK had previously collaborated with Chopra on critically and commercially successful films like 'Darr' (1993) and 'Dilwale Dulhania Le Jayenge' (1995), 'Dil To Pagal Hai' marked the very first association of Madhuri Dixit and Karisma Kapoor with the Yash Raj camp. And the end result was marvelous. Upon its release on 30th October 1997, the film opened to overwhelming response. Made on a budget of almost Rs. 9 crores, the film went onto gross Rs. 59.82 crores in India and became the third highest opener of the year behind 'Border' and 'Koyla'. With global collection of Rs. 71.86 crores, 'Dil To Pagal Hai' emerged as the highest grossing Indian film of the year worldwide. The film has attained cult status over the years.
TWINKLE KHANNA (KUCH KUCH HOTA HAI)
The bigger a film is the more trivia it has in store for movie buffs. 'Kuch Kuch Hota Hai', a 1998 blockbuster film which has attained a cult status over the years, was a huge movie in all the possible ways. It had the evergreen Jodi of Shah Rukh Khan and Kajol. It had the music of the hit composer duo Jatin-Latin and it was shot on a really lavish scale. Besides all this, it marked the directorial debut of a man who went on to emerge as one of the finest filmmakers of current generation. Yes, it is none other than Karan Johar. The film changed everybody's life associated with it. But only a handful of people know that what sort of problems Karan had to face to get the casting done for his dream directorial debut. His script for the iconic film was rejected by multiple actors in a row.
Undeterred by all rejections, Karan continued his search and finally found his lead in Shah Rukh Khan and Kajol. But his problem did not end just there. He had to move heaven and earth to finalize the second female lead for the film. Karan Johar first offered her role to his best friend Twinkle Khanna. The role of Tina, which was inspired from Twinkle's nickname, was originally written for her only. But Twinkle politely turned down the offer for reasons best known to her.
Surprisingly, it was not just Twinkle Khanna who refused to do the said role, In fact, after not getting a favorable response from her best friend, Karan approached a host of actresses such as Raveena Tandon, Aishwarya Rai Bachchan, Tabu, Urmila Matondkar and Karisma Kapoor for the same role. But much to Karan's surprise, all the actresses turned down the role which ultimately went to Rani Mukerji and changed her fortune forever. SRK and Kajol were already established superstars, but the way its success shot newbie Rani Mukerji to instant stardom in something beyond imagination.
SHILPA SHETTY (BAADSHAH)
Shilpa Shetty, who made her acting debut opposite Shah Rukh Khan in the successful crime thriller film 'Baazigar' in 1993, was the original choice of the director duo Abbas-Mustan to play the female lead in the movie 'Baadshah' (1999). She was roped in for the film in 1995 but bowed out when the film kept being delayed again and again. Reportedly, the film was delayed for 2 years.
After Shilpa Shetty's exit, Karisma Kapoor, who was one of the most sought after actresses back in the 90s, was approached to play the female lead Seema in the movie. But the actress did not sign the film for reasons best known to her. After her rejection, the makers approached Twinkle Khanna who readily agreed to be a part of the action comedy film. The audience had quite liked Karisma's pairing with Shah Rukh Khan in the super hit film 'Dil To Pagal Hai' which released just two years before 'Baadshah'. Had the actress starred in this film with SRK, who knows it might have turned out to be a bigger success?
'Baadshah' hit screens on 27th August 1999, across 280 screens. It received mixed response from critics and made Rs. 1.10 crores on its opening day. It grossed Rs. 3.21 crore in its opening weekend, and rested its first week earning at Rs. 5.88 crores. By the end of its theatrical run in the domestic market, the movie made Rs. 14.87 crores, and was declared "Average". However, its multiple repeats on satellite earned it a lot of audience in the following years and is quite popular among kids in India. Shilpa Shetty must have regretted her decision of quitting the film.
KAREENA KAPOOR KHAN (KAL HO NAA HO)
Today, it is almost impossible to imagine any other actress in the character of nerdy Naina Catherine Kapur, a role played brilliantly by Preity Zinta in the critically and commercially successful film 'Kal Ho Na Ho' (2003). But the fact is that Preity was never the first choice to play the said role. Karan Johar, who produced the film under his production banner Dharma Productions, had written the character of Naina keeping his best friend Kareena Kapoor in mind whom he had directed in 'Kabhi Khushi Kabhie Gham' (2001). When Karan approached Kareena for the film, she quoted an exorbitant fee as her remuneration. Reportedly, the price which she quoted was at par with the film's main lead Shah Rukh Khan. Karan refused to fulfill her blatant demand and instead signed Preity Zinta. Both Karan and Kareena had a public falling due to this episode.
Karan Johar even opened up about his spat with Kareena Kapoor in his recently launched book 'An Unsuitable Boy'. Writing about his fallout with the actress, he says, "My first problem was with Kareena. She asked for too much money and we had some kind of a fallout at that time. 'Mujhse Dosti Karoge!' had just released, directed by Kunal Kohli. She said, 'Aditya Chopra's assistant Kunal Kohli has made this flop, so Karan Johar's assistant, Nikhil Advani is not to be trusted either. The weekend of 'Mujhse Dosti Karoge's release, I offered her 'Kal Ho Naa Ho', and she asked for the same money that Shah Rukh Khan was getting. I said, 'Sorry'. Reportedly, they did not speak to each other for more than nine months after this incident.
Anyway, the film was finally offered to Preity and rest is history. Upon its release on November 27, 2003, across 400 screens, the film received unprecedented response of the critics and audience alike. It was one of the most successful and highest grossing films of the years. The film has attained a cult following over the years.