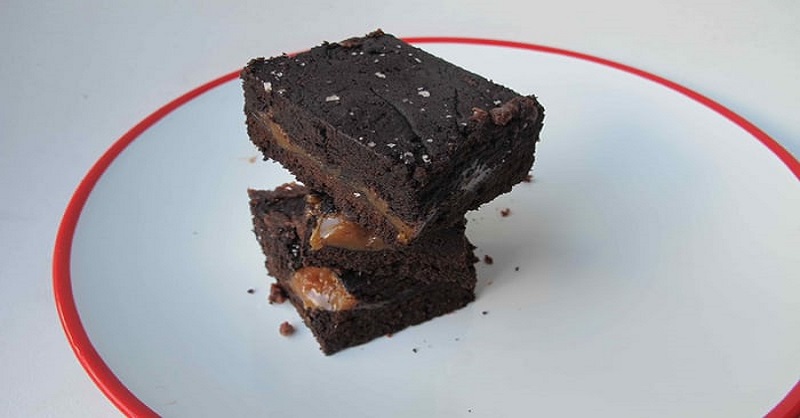 The perfect combination of brownie, caramel, and salt. Check out this dessert recipe.
How to bake the perfect salted caramel brownies
Makes 25
Ingredients
200g very dark chocolate, as dark as you can find
250g unsalted butter
250g caster sugar
3 large eggs, lightly beaten
1 tsp vanilla extract (optional)
120g plain flour
½ tsp baking powder
Pinch of salt
100g pecans, or nuts of your choice (optional)
For the caramel
110g caster sugar
55g butter
4 tbsp sour cream
½ tsp flaky salt
Method
Start by making the caramel. Line a plate or shallow bowl with lightly greased baking parchment. Melt the sugar in a medium pan over a medium-high heat until a rich amber, stirring occasionally to break up chunks. Take off the heat and stir in the butter, followed by the cream and salt, until melted. Pour on to the lined plate and chill or freeze until solid, but still soft enough to scoop (about 40-55 minutes).
Meanwhile, melt the chocolate in a heatproof bowl set over, but not touching, a pan of simmering water (or use a microwave). Allow to cool slightly, stirring occasionally. Heat the oven to 180C/350F/gas mark 4, and line a 23x23cm baking tin with baking parchment. Toast the nuts, if using, in a dry pan until fragrant, then roughly chop.
Once the caramel is almost ready, beat the butter and sugar together until light and fluffy. With the mixer still running, gradually add the eggs, beating well between each addition to ensure they are thoroughly incorporated before pouring in any more. Leave mixing on a high speed for 5 minutes until the batter has a silky sheen, and has increased in volume.
Remove the bowl from the mixer, and gently fold in the melted chocolate and vanilla with a large metal spoon, followed by the sifted flour, baking powder, salt, and nuts.
Spoon half the mixture into the tin and make about 8 small divots on its surface then spoon generous blobs of caramel into them, reserving a quarter for the top. Spoon on the rest of the batter. Dot the remaining caramel over the top and bake for 30 minutes. Towards the end of the cooking time, prepare a sink with enough iced water to come halfway up the side of the tin.
Test the brownies with a skewer; it should come out sticky, but not coated with raw mixture. If it does, put it back into the oven for another 3 minutes, then test again. When ready, carefully lower the tin into the sink, then allow to cool before cutting into pieces and devouring.