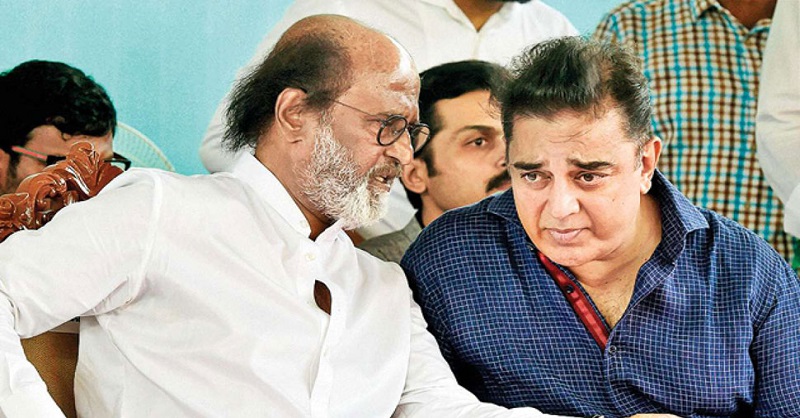 Rajinikanth has finally announced his entry into politics, ending the months-long suspense which had kept his fans, observers, politicians, and fellow film stars on tenterhooks for months.
Speaking to his hundreds of fans who trooped into the Raghavendra marriage hall in Chennai, Rajinikanth stopped short of announcing a political party, saying only that he would float one at the "appropriate time". That didn't stop one fan from coming armed with a 'party flag' — a tricolor of red, white and blue with a sketch of Rajinikanth.
First among those to congratulate Rajinikanth was his cinema, and perhaps, political rival Kamal Haasan. "I congratulate my brother Rajini for his social consciousness and his political entry. Welcome welcome," said Kamal Haasan.
Earlier Haasan reportedly hinted that he was willing to work with Rajinikanth if the superstar ever decided to enter politics.
The BJP, too, welcomed him, saying it shares his ideal of honesty in politics.
The AIADMK was more cautious, welcoming the actor in politics, but seeking to know his "blueprint" of politics.
BJP leader Subramanian Swamy was quick to dismiss the hype around Rajinikanth's political plunge, predicting he would 'flop'.
With the announcement, the Thalaivar of Tamil cinema has ended the months-long suspense and again stirred the political pot in Tamil Nadu, which has been going through a political vacuum since the death of AIADMK leader J Jayalalithaa last year. 
New Year's gift to Tamil Nadu
a fan, who attended a meet-and-greet event at the Sri Raghavendra Kalyana Mandapam here to be a witness to the 'much-awaited' announcement, said, "December 31 will be marked as the 'New Year' for Tamil Nadu. A new era and a new ray of hope have started. 'Thalaivar' is going to bring accountability, transparency and good governance."
He added the people of Tamil Nadu would stay with Rajinikanth and would take him to the throne.
"This is a war against corruption. Have you seen anyone as unique as Rajinikanth? And you cannot. There is only one Rajinikanth and we think he is the only one who can unite Tamil Nadu. We are going to take Tamil Nadu to greater heights," the fan said.
Another fan, Gayatri, said, "God has answered our prayers today. I would like to say politics has entered Rajinikanth instead of saying Rajinikanth has entered into politics. He is asking the citizens to become more concerned about whatever that is happening around. Those who are holding public offices must be made accountable. He is basically engaging and energizing the entire public".
Srividya said people of Tamil Nadu had been waiting for this day.
"We are wearing new clothes for the celebrations. It is a New Year's gift for us. Everyone is a Rajinikanth fan. People of Tamil Nadu are waiting for a change, so the change will definitely come," she added.
In a much-anticipated moment for all his fans and well-wishers, superstar Rajinikanth, earlier in the day, confirmed his entry into politics, adding he would be contesting in the next state assembly elections by forming a new party.
"My political entry is definite. This is a long-pending decision. I will feel guilty if I don't take this decision at least now. In the next assembly elections, I will form a party and will contest all constituencies in Tamil Nadu," he said while addressing the gathering.