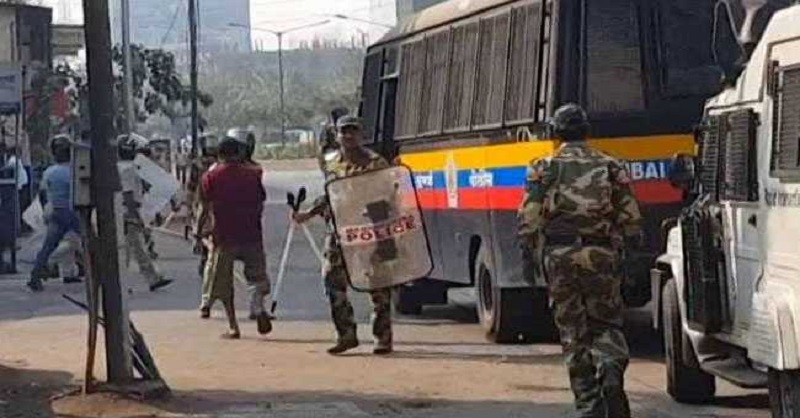 The clashes that broke out between villagers from Koregaon Bhima, Pabal, and Shikrapur in Pune district of Maharashtra over a celebration of the British victory over Peshwa Bajirao II's Army on January 1, 1818 has turned deadly as one person Died and 25 got injured.The British troops contained Dalit men.
According to reports, a group of men asked the villagers to not hold any celebrations. There were also reports that the clash broke out between Right wing and Dalits.
In the clashes that broke out following the group's demands, a 28-year-old youngster lost his life and buses, four wheelers and a police van were set on fire. Later in the day, clashes were also reported in the nearby villages of Sanaswadi and Perne.
Two CRPF companies were positioned to contain the situation.
"Trouble broke out in the morning after a few men with saffron flags visited the area.
Later, villagers set ablaze eight vehicles on the highway and some threw stones at vehicles, IGP (Kolhapur range) Vishwas Nangre-Patil was quoted as saying by Times of India.
According to the report, the battle which took place on January 1, 1818, was a clash between the armies of Peshwa Bajirao II and the British troops which contained Dalits.
According to historians, the British suffered losses in the battle and the accounts by British historians do not perceive the battle as a victory.
"After the defeat at Khadki and Yerawada (on November 5, 1817), Peshwa Bajirao II was stationed at Phulgaon near Perne Phata along with Pratapsinh Chhatrapati and their troops comprising over 20,000 soldiers drawn from different castes and communities."
"The Peshwa received information (around December 1817) that Brigadier Gen Smith was on his way from Shirur to attack Pune with his troops so he and Pratapsinh Chhatrapati decided to intercept him. There is enough documentary evidence that the British never perceived this battle to be a victory," the Times of India quoted Pandurang Balkawade, secretary of Bharat Itihas Sanshodhak Mandal as saying.