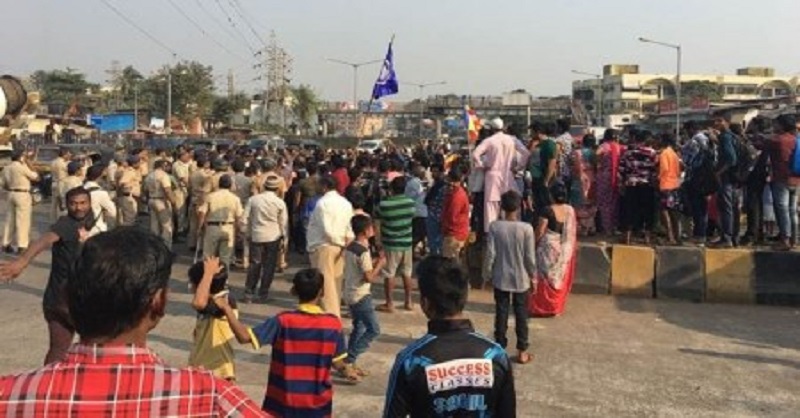 The state-wide bandh in Maharashtra had disrupted the routine lives of the people. The perpetrators of the clash each time seems to be different, with FIR's charged against them.
The Mumbai Police registered a total of 15 FIRs in connection with the protests which took place during the Maharashtra bandh called by the Dalit outfits on Wednesday. The cases have been registered under various sections of the Maharashtra Police Act, Defacement of Public Property, Criminal Amendment Act and the Indian Penal Code (IPC). The number of FIRs are likely to rise as they are just interim ones.
The bandh was called by various Dalit and other organizations to protest against the state government's failure in stopping the violence that broke out when over three lakh members of the Dalit community had gathered in villages around Bhima Koregaon near Pune to attend an event commemorating the 200th anniversary of the Battle of Koregaon.
Bharipa Bahujan Mahasangh leader Prakash Ambedkar on Wednesday afternoon called off the state-wide bandh following which life was restored to normalcy across the state amid heavy police deployment.
The protests were held in Nagpur, Pune and Baramati and incidents of road blockades, arson and stone-pelting were reported in Mumbai and neighboring areas. Meanwhile, Chief Minister Devendra Fadnavis said that an inquiry will be conducted to probe the incidents of violence that took place across the state. "We are monitoring the CCTV footage of the violence," he said.
On Monday, as nearly three lakh people thronged the village of Bhima-Koregaon and nearby villages to pay tributes at a memorial to Mahar soldiers who fought alongside the British 200 years back, some groups of Dalits were attacked, allegedly by men wielding saffron flags. During the clashes, a youth was also killed, following which tension gripped various parts of the state.