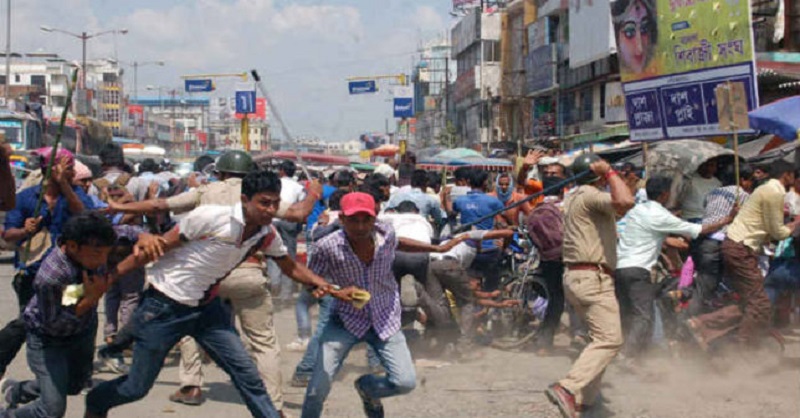 The communal clash that took place in Bhima Koregaon has caused a state-wide bandh in Maharashtra, and clashes in Pune as well. And in Gujarat as well.
The protests by Dalits in Maharashtra spread to adjoining Gujarat today, where members of the community took out a rally here and shouted slogans outside the BJP office.
A Dalit group held a protest march in Udhna locality to express solidarity with the community members in Maharashtra over the caste violence in Pune district on January 1.
The Maharashtra bandh, however, was withdrawn later in the day.
https://www.eastcoastdaily.in/2018/01/03/breaking-news-conflict-within-parliament/
Hundreds of Dalit community members gathered under the banner of Samast Ambedkar Samaj and took out a rally. They briefly staged a dharna in front of a stationary train at Udhna Railway Station and blocked a road, affecting the movement of traffic for a while.
Dalit groups had called for a bandh in Maharashtra today to protest the violence over the bicentennial celebration of the Bhima-Koregaon battle near Pune.
"We organized a rally to express solidarity with the members of our community who protested against the violence near Pune.
"As per our plan, we took out the rally in Udhna and blocked a train and road traffic, and shouted slogans outside the BJP headquarters," said Kunal Sonawane who led the protesting group.
Police said the protest was peaceful and no such agitation was reported from anywhere in the state.
Gujarat's in-charge DGP Pramod Kumar said the Surat protesters had sought police permission to organize the march.
"Some 150-200 people had sought permission from the Commissioner of Police to organize a rally, and they were given permission for the same. No untoward incident was reported during the protest," he told reporters.
Minister of State for Home Pradipsinh Jadeja and senior police officials held a meeting to assess law and order situation in Gujarat following developments in Maharashtra.
Kumar also participated in the meeting.
Violence erupted in Pune district when Dalit groups were celebrating the bicentenary of the Bhima-Koregaon battle in which the forces of the British East India Company defeated the Peshwa's army. Right-wing groups have been blamed for the clashes which left one person dead.
Dalit leaders commemorate the British victory as it is believed soldiers from the Mahar community were part of the East India Company's forces. The Peshwas were Brahmins, and the victory is seen as a symbol of Dalit assertiveness.