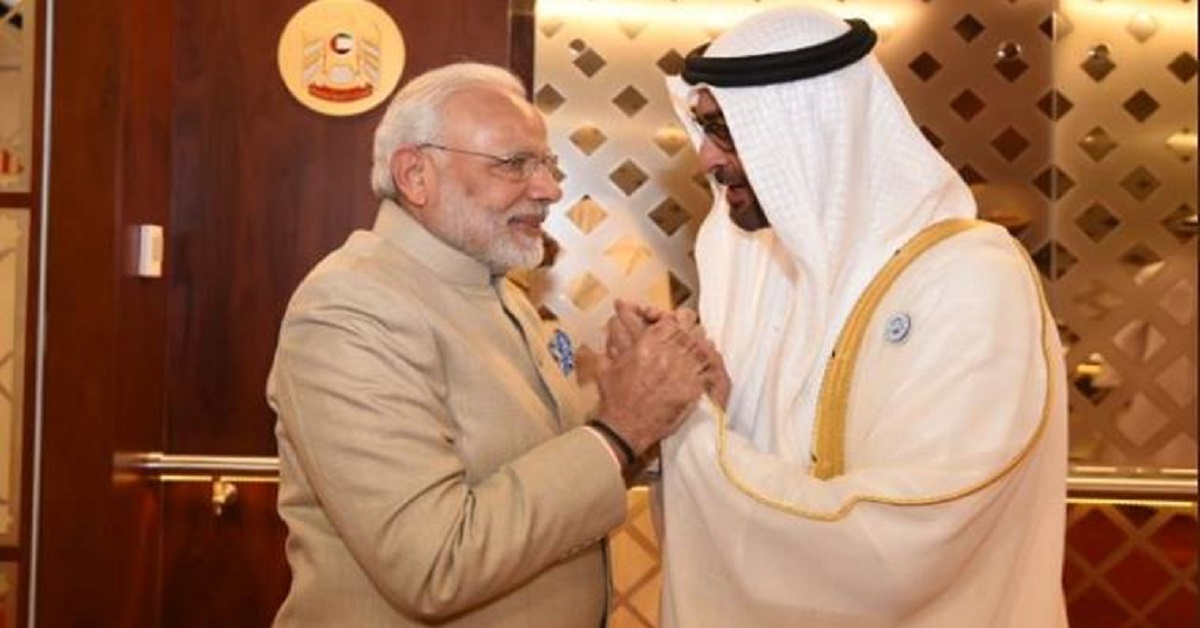 Prime Minister Narendra Modi arrived in Abu Dhabi from Palestine on Saturday evening on a two-day state visit. He was received by His Highness Sheikh Mohamed bin Zayed Al Nahyan, Crown Prince of Abu Dhabi and Deputy Supreme Commander of the UAE Armed Forces.
Prime Minister Narendra Modi who is in Abu Dhabi as part of his West Asia tour will visit the Wahat-Al-Karama, a monument built in remembrance of  UAE's soldiers who made the ultimate sacrifice. The Prime Minister will be given a tour of the monument after which he will attend a community function at Dubai Opera House at 11.00 am.
The Prime Minister who arrived in Abu Dhabi on Saturday was given a ceremonial reception after he was received by the Crown Prince of UAE. The two nations exchanged five MoUs to build cooperation on energy, security, investment among other fields. on day two of his visit to UAE, the Prime Minister will meet business leaders from Gulf Cooperation Council, followed by meeting the Prime Minister of France at 12.50 am, before heading for his meeting with Sheikh Mohammed bin Rashid Al Maktoum, Vice President and PM of UAE.
READ ALSO: PM Modi to inaugurate Abu Dhabi's first Hindu temple : All you need to know
As his last engagement in UAE, the Prime Minister on Sunday is scheduled to deliver an inaugural address at the World Government Summit. Modi will emplane for the third leg of his West Asia trip to Muscat at 5.00 pm. PM Modi will be given a ceremonial welcome in the Gulf nation where he is scheduled to attend another community event with NRIs. Modi will then meet Sultan Qaboos bin Said Al Said, Sultan of Oman at 10.00 pm (IST).
In the first leg of his three-nation tour, Narendra Modi made a state visit to Palestine, a first by an Indian Prime Minister, where he was received by Palestine President Mahmoud Abbas and was accorded a ceremonial guard of honor at Al-Muqata'a. Modi's first engagement after arriving in Ramallah was the wreath laying ceremony at the Mausoleum of Late President Yasser Arafat.